Think Your Roommate Is Bad? Meet The Guy From This Viral Reddit Thread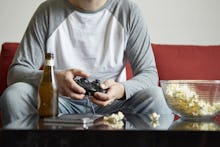 Roommates have been known to get on each other's nerves, whether it's squabbling over who does the dishes or who takes the trash out. But for Reddit user igotthejack, such pedestrian issues likely sound positively delightful compared to his current predicament, which is that his roommate has been putting his penis in their cups. 
In a recent Reddit thread, he shared a photograph of a beer mug filled with a pair of plastic wrap-enclosed sponges, ostensibly meant to act as sort of a makeshift Fleshlight. "The cups in our house keep disappearing," his caption reads. "Turns out my roommate has been fucking them."
Cute!
(Warning: The following photo isn't technically NSFW, but it's fairly disturbing nonetheless.)
Apparently this DIY-inspired, 0 Girls 1 Cup approach to jerking off is actually an established thing: Back in 2014, Daily Dot editor Miles Klee tried his hand at making a homemade Fleshlight out of, among other things, a glove and a Pringles can.
So perhaps it's not surprising that igotthejack's Reddit thread quickly took off, with nearly 3,000 comments rolling in since it was posted Tuesday night. "I'm trying that shit as soon as possible," said one user. Another joked, "'Goddammit, Steve, this isn't what I meant by 'It's your turn to do the dishes.'"
The post garnered so much attention, in fact, that the actual roommate (i.e. the cup-fucker in question) agreed to do an AMA about it few hours later. In the thread, he spun an elaborate yarn about how a girl he met on Tinder asked him to do it, which we totally, totally believe. (For what it's worth, Mic has reached out to both parties for more details and will update if we hear back.)
That such an unsavory tale of bad roommate etiquette was shared on Reddit dot com isn't exactly surprising. The site has previously been home to various tales of roommate horror stories and cruel pranks,  many of which have been posted to the subreddit /r/BadRoommates.
Notable examples of roommate impropriety include this dude who flooded the kitchen while attempting to do the dishes:
And this li'l jokester who decided to plant a life-size Gollum cutout in the bathroom:
Also this guy, who knew his roomie was bringing a girl home and decided to go all Manitowoc PD on him and plant some evidence on his bed, just for shits 'n' giggs:
The list goes on and on, but for his part, igotthejack's roommate claims he didn't have any nefarious intentions, and that he cleaned the cup thoroughly afterward. 
"I respect my friend way way to much to ever let him eat or drink from something I had done that to," he wrote in his AMA thread. "I'm not a psychopath." Maybe not, but if you come across this guy on Craigslist, it's probably best to look for another roommate — or at least keep him far, far away from your Tupperware. 
Get the five stories that will challenge you to rethink the world by signing up for MicCheck Daily.