Khloé Kardashian's No-Dairy Diet and the Truth Behind It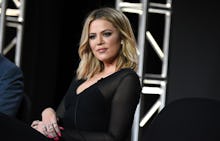 Richard Shotwell/AP
Reality TV star Khloé Kardashian told E! News she tried hard to break her cheese addiction and lost 13 pounds "just from cutting out dairy," but dieters shouldn't freak out and trash their heavenly smoked Gouda just yet. While Kardashian isn't the first to claim cutting out dairy changed her life, some studies have shown dairy may actually be the strongest protein in fighting obesity and promoting muscle and bone growth and certain dairy products are specifically recommended for weight loss.
Kardashian, who told People in an article published Wednesday she's now lost a total of 40 pounds from her diet and gym routine, said she was surprised when her nutritionist recommended she cut out dairy. "'That's such B.S.," she told E! News on her initials thoughts. "Dairy's not going to change anything." Well, does it?
It depends what else your diet consists of. 
PopSugar's contributing fitness editor Jenny Sugar shared a similar inspiring story earlier this month about parting with dairy. She ditched dairy after watching the pro-vegan documentary Vegucated and said within two months, her skinny jeans fit better, her bloat went away, her allergies disappeared and she had more energy. 
An important factor she mentions briefly, however, is that she didn't only cut out dairy. She completely revamped her diet to consist of mainly green smoothies, salads and vegetarian proteins. Before, Jenny said her go-to meals were "cheesy pesto paninis, creamy pasta and pizza."
Dairy is high-quality protein. 
A 2015 study published in the Journal of Food Science showed that dairy is one of the global market's highest-demanded products because dairy protein best supports muscle growth, among other health benefits. 
"Dairy proteins are of the highest quality and are considered complete proteins that contain all essential amino acids necessary to support muscle growth and maintenance," according to the study. The study also showed that when including dairy such as milk, cheese and yogurt as part of a high-protein diet, it can help reduce fat mass and lower blood pressure.
Dairy doesn't lead to cardiovascular disease or weight gain. 
A recent article by the Belgian Bone Club and the European Society for Clinical and Economic Aspects of Osteoporosis and Osteoarthritis and Musculoskeletal Diseases said that while there may be a "weak" connection between dairy products and weight loss, dairy products contain "essential nutrients that is difficult to obtain in low-dairy or dairy-free diets, and for many people it is not possible to achieve recommended daily calcium intakes with a dairy-free diet."
The article did recognize that many avoid dairy for weight loss, lactose intolerance and preventing cardiovascular disease.