Bernie Sanders Embraces Obama as the Democratic Race Tightens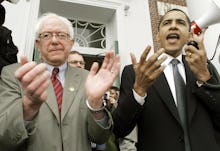 Four years ago, Sen. Bernie Sanders (I-Vt.) wanted President Barack Obama to sweat.
As Obama geared up for a difficult 2012 reelection bid, the democratic socialist senator encouraged a progressive Democrat to step forward to challenge Obama in the primaries and push the Democratic debate to the left, though Sanders was adamant he would not be that candidate.
"I'm not a Democrat. I'm an independent. But if a progressive Democrat wants to run, I think it would enliven the debate, raise some issues and people have a right to do that," Sanders told WNYC in March 2011. "I've been asked whether I am going to do that. I'm not. I don't know who is, but in a democracy, it's not a bad idea to have different voices out there."
By late 2011, it was clear that no such challenger would mount a campaign, but Sanders had yet to formally lend his support to Obama's reelection bid. "I certainly hope and expect to be supporting the president, but it's a little bit early in the process," Sanders told Politico in November of that year.
Explaining his reticence toward Obama, Sanders voiced concerns that the president would impose cuts to programs like Social Security, Medicare and Medicaid, and called on Obama to hike taxes on the wealthy and "stop reaching negotiated agreements with Republicans that are extremely weak and disadvantageous to ordinary people."
But that was then. Four years later, the senator who cited his independent affiliation as a reason he wouldn't seek the Democratic nomination has undergone an about-face on the merits of working within the party. (Though Sanders has always caucused with the Democrats in the Senate, he no longer touts his independent status, telling ABC News last fall, "I am a Democrat now.") As Sanders closes the gap with Hillary Clinton in national and early-state polls, he's also sounding a strikingly different tune about the president he's vying to succeed.
A newfound appreciation: While Sanders is running a campaign that taps into dissatisfaction with Obama's America — decrying persistent wealth inequality, slamming administration-backed free trade agreements and pointing to stubbornly high unemployment levels among demographic groups like African-Americans and Hispanics — Sanders is now far more laudatory in assessing the Obama record than he was four years ago. (Since then, Obama has signed tax increases on wealthy Americans and adopted an increasingly confrontational posture toward Republicans, as Sanders had hoped.)
After Obama delivered his final State of the Union address on Tuesday night, Sanders had nary a word of criticism for the president.
"President Obama raised some enormously important points regarding the long-term future of our country — much I agreed with. Not only can we effectively combat climate change, we can create good-paying jobs. Yes, we have to destroy ISIS, but we must do so through a coalition, and we cannot get bogged down in perpetual warfare in the quagmire of the Middle East," Sanders said in a statement. "I also appreciated the president's point that we need more civil politics, that we need to get big money out of politics and that at a time of tremendous wealth and income inequality we must revitalize American democracy."
Implicitly linking his call for a "political revolution" to Obama's address, Sanders tweeted Tuesday night that the speech also served as a reminder "not to be afraid of change":
Sanders' warm words for the president's speech followed several months of concerted efforts to make clear to Democratic voters that despite often-sharp differences in both style and substance, the senator sees the Obama legacy as, on balance, a commendable one.
In his "I am a Democrat" interview with ABC this fall, Sanders pushed back against the suggestion that he'd been disloyal to the president, who campaigned for Sanders during his 2006 Senate election. 
"The idea that I've worked against Barack Obama is categorically false," Sanders said. He added, "I think under incredible Republican obstructionism, Obama and Joe Biden have moved this country forward in a way that leaves us a hell of a lot better than when [President George W.] Bush was in office." 
Why the shift? If Sanders hopes to become the Democratic standard-bearer in the fall, he must walk a fine line between trumpeting the anti-establishment message that's won him legions of progressive fans and paying homage to an establishment president who remains overwhelmingly popular with the Democratic electorate.
A New York Times/CBS News poll released this week found that Obama boasts an 81% approval rating among Democrats, with just 13% disapproving. Beset with a looming financial crash and lingering discontent over the Iraq War, President George W. Bush entered his final State of the Union address in 2008 in a weaker position among Republicans: While 62% of GOPers told the Pew Research Center that Bush would be remembered for his accomplishments, no fewer than 27% of his fellow partisans thought he'd go down in history for his failures.
Obama remains especially popular with nonwhites, a key segment of the Democratic coalition with whom Sanders is looking to make inroads. A CNN/ORC International poll last month found that while 47% of Americans overall approved of Obama's job performance, 70% of nonwhites did.
African-Americans and Hispanics have been among the biggest beneficiaries of Obama's landmark health care reform law, an Enroll America analysis featured in the New York Times found. Pew also found that blacks and Hispanics are the strongest supporters of new gun control measures. 
How it plays: As Sanders nips at Clinton's heels in the latest polling, her campaign is slamming Sanders on both issues, saying his single-payer health care plan would dismantle Obama's Affordable Care Act (Sanders voted for the law, but as his plan attests, wants to go further) and hotly disputing the Sanders campaign's claim that there's "no daylight" between Sanders and Obama on guns. (While Sanders strongly backs Obama's recent executive action on background checks, he voted to give gun manufacturers immunity from lawsuits, a policy Obama opposes.)
While the administration's recent focus on gun violence has posed an awkward problem for Sanders and provided ammunition for Clinton, don't look for Obama to put his thumb on the scale in the Democratic primary. The White House announced this week that there will be no endorsement from the president until Democrats pick their nominee.
In a major boost to Sanders' campaign, the senator received an eyebrow-raising assist this week from Vice President Joe Biden, who opted this fall not to mount a White House campaign of his own. Praising Sanders' career-long advocacy for greater income equality, Biden pointedly called Clinton a newcomer to that fight in a CNN interview, while also disputing the notion that Sanders is weak on gun safety issues.
"What Bernie Sanders has to do is say that the Second Amendment says — which he has, of late — the Second Amendment says you can limit who can own a gun, that people who are criminals shouldn't have guns," Biden said. "People who are schizophrenic and have mental illnesses shouldn't own guns. And he has said that."
Much as they created a headache for the Clinton camp, Biden's comments weren't quite an endorsement of Sanders. But as the progressive insurgent looks to draw Obama voters into his campaign, Biden provided a healthy dose of much-needed adrenaline.