'Making a Murderer' Convict's Half Brother Brad Dassey Drops New Rap "They Didn't Do It"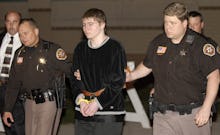 Sue Pischke/AP
Making a Murderer, Netflix's hit new series covering the legal proceedings surrounding the murder of Teresa Halbach, is now making a rapper.
Brad Dassey, self-described "Christian rap indie artist" and half brother to Making a Murderer subject Brendan Dassey, released a new track Monday addressing his brother's conviction. Titled "They Didn't Do It," the song throws support behind accusations of corruption and conspiracy that Brendan Dassey and Steven Avery were framed for Halbach's murder. It's been generating huge buzz within fan communities feeling the impact of the song's message.
"Kid's just innocent," Brad Dassey raps. "Was only 16, tryna set him free/ He's not guilty, there's no way in hell/ Corruption made him fall, lose it all."
Source: braddasseymusic/Soundcloud
According to Brad Dassey's SoundCloud, he wrote and recorded the new track in 10 hours as a way to try to bring more attention to his brother's case.
"I was influenced to write it because everybody's talking about Steven this, Steven that," Brad Dassey said in an interview with the Daily Beast. "Nobody talks about Brendan. The poor guy just got railroaded by investigators and got the raw end of the deal, and somebody needs to support him."
Both Brendan Dassey and Avery, the latter of whom is the primary focus of Netflix's Making a Murderer, have been serving life in prison since being found guilty in 2007 for the 2005 murder of Halbach. Avery had previously served 18 years for a sexual assault and was later exonerated by DNA evidence. He was in the process of suing local officials for $36 million for wrongful conviction when he was hit with the murder charge.
The Netflix documentary series covering these legal proceedings has gathered a large number of supporters demanding their release. A petition submitted to the White House asking for a presidential pardon for both men garnered 129,950 signatures, and another at Change.org drawn more than 400,000 signatures. However, since Halbach's murder was never a federal case, the president doesn't have the power to overturn the conviction, as a White House representative wrote in response. 
Brad Dassey still holds out hope that some good will come from the attention the documentary and his song are receiving, besides helping to get his music in front of wider audience than ever. "I just want people who support our family to listen to it," Dassey told the Daily Beast. "It's more of a victory song to the better days ahead, because I just had a dream the other day that [Brendan and Steven] were out, and there was going to be a massive party and people all over the globe were going to come down and celebrate."