Here's the 'Making a Murderer' Hair Commentary You've Been Waiting For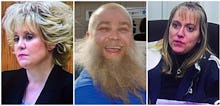 While you powered through the highly stressful docuseries Making a Murderer recently, you may have noticed something about the people participating in Steven Avery's trial and the residents of Manitowoc County. 
Let's just say ... they've got a small town vibe. Beards are grown all the way out. Hair is teased beyond compare. Bangs are grown so very long. There are a seemingly endless amount of grooming masterpieces to be seen.
And a new Tumblr, Making a Murderer Hairstyles, is here to help you understand them all. 
To show the Murderer characters' many hairstyles a little appreciation, New York City-based comedian Giulia Rozzi has started rounding them up on Tumblr, detailing and classifying the show's grooming tours de force.  We know, we know: These people clearly have much more important things to think about than beauty and fashion, but they really are awe-inspiring. 
And because no one on the show has been treated to any sort of professional coiffing like on other hugely popular TV shows, this is real.
It's very real.
"For every 'Oh my God, how is that fair?!?' I yelled while watching the series, I'd also yelled, 'Oh my God, that hair!'" Rozzi told Mic. "I then tweeted a joke about it that got a lot of responses, which confirmed that other people were noticing  these awesome hairstyles. That's when I decided I needed to capture and celebrate them." 
Like the "Gimmie That Confession Goatee" ...
Or the "Manitowoc Mullet."
The Tumblr is indeed a celebration. 
"There was just such an array of awesome styles, many of which brought up nostalgia about some of my own personal weird do's from back in the day," Rozzi said. "The Tumblr was a silly way for me to comment on the case while offering some comedic relief."
Rozzi has examined the show's most famous dos with sharp wit and incorporated spoiler-filled story lines into the definitions. Beware: If you don't recognize the character, you probably don't want to read the full description. 
Like for the "Shoestring Ponytail," which is a "tight pony with two thin strands set free (like innocent people should be) and framed (like innocent people can be) around the face." 
The Shoestring Ponytail look happens to be Rozzi's favorite because, as she told Mic, "I used to rock a similar style in 8th grade. I loved it when I did it."
Another favorite of hers is the aptly named "Nancy Grace's Sister." 
"It's so big, blond and perfect," Rozzi said. 
Lastly, a most critical element Rozzi acknowledges in her analysis is the internet's eternal love for defense attorney Dean Strang. His hairstyle is the "Lucious Lawyer" and it entails "a thick gorgeous mane that makes ladies melt."
Let's just say she is not incorrect.
While the internet is still steaming over the Avery case, at least now we've got ourselves a bit of comic relief in the form of some wonderfully Wisconsin hairdos. And for those perusing beauty blogs for hair inspiration, now there's another one to add to their lists.