David Bowie's Ex Learned He Died on 'Celebrity Big Brother' — And It Took a Bizarre Turn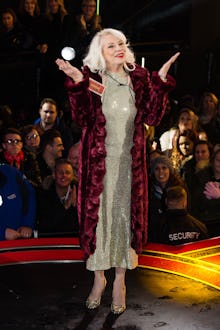 In the weird, wild world of reality TV, sometimes the truly real life has some unexpected consequences.
Angie Bowie, David Bowie's ex-wife, is a contestant on the British show Celebrity Big Brother. This incarnation of Big Brother is formatted much like the American version, but with star contestants a la our Dancing With the Stars. This means that Angie was isolated without news from the outside world. Producers chose to tell her about Bowie's passing — and what happened next was too bizarre to believe.
Because Angie chose to stay in the competition after hearing the news, Celebrity Big Brother aired her process of grieving, much to the chagrin of some viewers. As part of that process, however, she chose to tell a fellow houseguest, Tiffany Pollard, also known as New York from VH1's Flavor of Love, I Love New York and other reality programs.
Before watching the next clip, keep in mind that producer David Gest, Liza Minelli's ex-husband, is also a contestant on this season of Celebrity Big Brother.
In what can only be described as the purest form of farce on television in several years, if not ever, Pollard mistook Angie's declaration that "David's dead" as news of Gest's death, not Bowie's. Angie insisted Pollard not tell anyone that "David" had just died of cancer. Pollard, having learned, to the best of her understanding, that someone staying in the house was dead, couldn't keep it quiet.
Because Angie didn't realize Pollard's misunderstanding, she rushed to keep the reality star quiet. When Pollard did tell the other houseguests, Gest revealed himself to be very much alive. Pollard became furious with Angie, leading to a fight that is still dividing the house.
"It's a mess," Angie told viewers in a confessional segment. "It's a comedy of errors."
That is, in fact, exactly what this is. The genre of farce depends on unbelievable situations to build more and more ridiculous stakes to the point where the audience is dying for one character to just get what the misunderstanding is and explain it to everyone. This scene is actually stranger than fiction. If this were written, it likely would be decried as too outlandish, or at least deemed hard to accept as possible. The fact that the scene is connected to easily the biggest story of the week — the death of a beloved musical icon — only makes it stranger.
In a time of outrage, when internet commenters and fans are eager to assign fault, this stands as a blameless crime. Angie and Pollard had a moment of pure, genuine human error. Channel 5, which programs Celebrity Big Brother, aired it in full without any manipulation.
If anything, the scene stands as a testament to the power of television. Amid beautiful, heartfelt tributes and reflections on Bowie's legacy, a messy, honest moment was happening in a genre known for staging reality. That's strangely true to the spirit of David Bowie, a man who embraced his own flaws in pursuit of larger human truth.