Rumor of One Direction Splitting Up for Good Had Fans Freaking Out on Twitter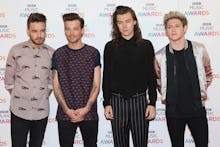 KGC-161/STAR MAX/IPx/AP
A close source to One Direction reportedly told US Weekly on Wednesday the band is breaking up for good after  after announcing in April they would be taking a hiatus. While another source told Billboard the rumor probably isn't true, that didn't stop Directioners from having a meltdown on Twitter. 
The source allegedly told Billboard "nothing has changed regarding hiatus plans for the group, and all will be revealed in due time from the band members' own mouths," but fans were already up in arms about the US Weekly report.
Have you forgotten? Have you?!
Like why?
Take that US Weekly.
 Fan or hater?
Peace.
Realist or Satan?
This fan seems to be handling the split well.
Awkward. 
Band members Niall Horan, Liam Payne, Harry Styles and Louis Tomlinson left fans with a heartfelt "farewell" performance on the X Factor, the show that launched them to fame, in December.