Alejandro Aravena, 2016 Pritzker Prize Winner, Shows Us How Low-Cost Architecture Is Done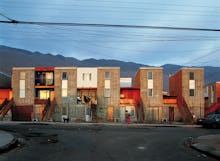 Alejandro Aravena/ Elemental
Alejandro Aravena, a Chilean architect, has been named the winner of the Pritzker Architecture Prize on Wednesday. The honor is the highest award in architecture and recognized Aravena's work with residents to create sustainable, low-cost housing, including in the wake of natural disasters. 
Aravena, 48, has built hundreds of housing for the poor in Chile, an accomplishment that has placed him on the cutting edge of sustainable living measures. "Alejandro Aravena has pioneered a collaborative practice that produces powerful works of architecture and also addresses key challenges of the 21st century," Tom Pritzker, chairman and president of the Hyatt Foundation, the charity that sponsors the prize, said in a statement. "His built work gives economic opportunity to the less privileged, mitigates the effects of natural disasters, reduces energy consumption, and provides welcoming public space." 
He is the first Pritzker laureate from Chile, and the fourth from Latin America. 
Best known for his position as executive director of his "Do-Tank" firm Elemental, Aravena is responsible for building affordable housing for families in Chile. His focus on building social housing and addressing the issues of public housing policy have made him a positive force for good in low-income areas.
"Looking backwards, we feel deeply thankful," Aravena wrote in an e-mail to the Pritzker Architecture Prize jury. "No achievement is individual. Architecture is a collective discipline. So we think, with gratitude, of all the people who contributed to give form to a huge diversity of forces at play. Looking into the future we anticipate freedom!" 
Aravena's win is not only a personal accomplishment, but a win for architects in the age of sustainability. As urban neighborhoods become more densely populated, architects face the challenge of creating cleaner, more efficient space for people to live and thrive. Rather than eliminating slums in low-income areas, Aravena, along with a host of other architects, welcome the challenge of transforming slums to livable, sustainable areas.
Aravena, who has focused on rebuilding cities after natural disasters, worked with families to build sustainable housing by listening to their concerns. Rather than building large buildings, Aravena's firm built smaller, more affordable housing units. These "half-finished" housing units, produced in tandem with residents, are incomplete by design in order to give homeowners space later, the Los Angeles Times reported. 
The firm also led the way in developing a blueprint for reconstruction after the 2010 earthquake and tsunami devastated a Chilean city, according to the Times. 
Aravena joins an accomplished list of past Pritzker laureates, including 2015 recipient Frei Otto. Otto, like Aravena, was one of the many architects who not only found ways to create sustainable living, but used their skills to try to solve societal issues. The 2014 Prizker recipient, Sigeru Ban, created low-cost, high-quality designs to aid victims of natural disasters.
 Aravena will be presented with the Pritzker prize at the UN Headquarters in New York in April.