Razzie Awards 2016 Nominations — Here Are the Movies and Actors Up For a Golden Raspberry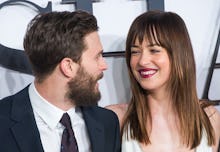 Samir Hussein/Getty Images
It's awards season, and the nominations for the 36th annual Golden Raspberry Awards, also known as the Razzies, were announced Tuesday on YouTube. About 900 of the Razzie members voted on the nominations and will vote again for the winners, according to Reuters. The ceremony will be held in Hollywood right before the Oscars on Feb. 27, and it's not recommended for fans to hold their breath on their favorite celebrity attending to receive their $4.97 gold spray-painted trophy, according to the BBC.
The Razzies, which calls out big movie blunders and flops, was created in 1980 by John Wilson to be a fresh of breath air against the more serious Academy Awards, according to Time. The first Razzies were actually given out at an Oscars party Wilson was hosting; he asked guests to nominate movies for worst film of the year.  
"There are some people in Hollywood who get the joke, but most just seem to hate it, and wish we would go away — which of course makes all this that much funnier," Wilson told Time. 
Although voters do have a say, a movie's budget, rating — like from Rotten Tomatoes — and box office stats are also deciding factors. It's rare if a celebrity actually attends the ceremony, but Halle Berry and Sandra Bullock are among the few who have. 
The categories for the spoof awards show cover all the basics: worst picture, worst actor, worst actress, worst supporting actor, worst supporting actress, worst remake or sequel, worst screen combo, worst director and worst screenplay. 
Read more:
There's also the Razzies redeemer award, which goes out to a past Razzie recipient who's cleared their name by having done good work, BBC reported. This year, Will Smith, M. Night Shyamalan, Elizabeth Banks and Sylvester Stallone are up for this award.
Last year's BDSM flick 50 Shades of Grey is the star of this year's Razzies, having earned six nominations for categories like worst picture, worst actress and worst actor. At least Jamie Dornan and Dakota Johnson are in it together. 
Other contenders for worst picture includes Marvel's Fantastic Four, Jupiter Ascending, Paul Blart Mall Cop 2 and Pixels. 
Adam Sandler, who has been nominated every year since 2012, and his movie The Cobbler earned nominations for worst actor and worst screen combo, with the other half of his combo being "any pair of shoes." His Netflix original The Ridiculous 6, which came out in December despite controversy for being racially insensitive, managed to avoid any nominations.
Eddie Redmayne, who is up for an Oscar for his role in The Danish Girl, also has a Razzie nomination for worst supporting actor in Jupiter Ascending. 
The Razzie nomination video is below: