Big Block of Cheese Day: The Real Story Behind the Ridiculous White House Tradition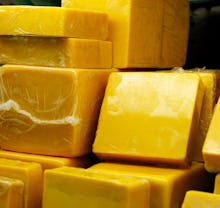 Tim Boyle/Getty Images
Big Block of Cheese Day, a White House tradition made popular on an episode of The West Wing, happened again this week. According to a punny press release from the White House, Wednesday marks the third year in a row that the Obama administration has observed this hallowed tradition. 
Big Block of Cheese Day is inspired by President Andrew Jackson, who placed a "two-ton" block of cheese in the foyer of the White House as a symbol of openness and welcoming the public and their ideas — although this may have been a political gimmick (and a way of getting rid of smelly cheese) more than anything else, according to the Atlantic. 
In 1835, Jackson reportedly received a giant (1,400-pound) block of cheese as a present from a dairy farmer. It turned out that it was hard to eat through such a giant hunk of cheese, so Jackson devised an ingenious solution for getting rid of it — invite the American people in to eat the cheese. The White House welcomed 10,000 visitors during a single reception, and the cheese was finished, leaving the public satiated in more ways than one.
The Obama administration doesn't exactly observe Big Block of Cheese Day in the same way that Jackson did, meaning there's no real block of cheese. Instead, the administration has celebrated a "virtual" Big Block of Cheese Day. This year, the White House invited members of the public to share questions (and cheese puns) with the administration on Tumblr, Twitter, Instagram and Facebook by using the hashtag #BigBlockOfCheeseDay.
Even though, there's no giant block of cheese in the White House, Director of Intergovernmental Affairs Jerry Abramson tweeted a photo of himself answering questions online while wearing a cheese hat Wednesday. It's not edible, but it's a start.