'Friends' Fans Are Psyched For Rumored Reunion, but They're Going to Be Very Disappointed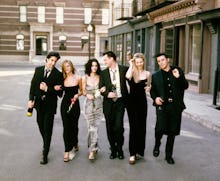 NBC/Getty Images
Fans of the beloved '90s and early 2000s sitcom Friends are freaking out over a report that their dream BFFs Rachel, Ross, Monica, Chandler, Phoebe and Joey will reunite on NBC in February — but it's only for a two-hour special honoring sitcom director James Burrows, who directed a few Friends episodes. Womp, womp.
The casts of Friends, Taxi, Frasier and Will & Grace will come together to celebrate Burrow's 1,000-episode milestone, TVLine reported, which is sweet and all, but far from a full-blown Friends reunion on the Central Perk couch. Still, fans embraced the news on Twitter with talk of the reunion they've "wanted for years." For what it's worth, the special will reportedly air on NBC Feb. 21 at 9 p.m. Eastern.
These people are either easily satisfied or misinformed:
The Friends cast and crew have denied several previous rumors of any sort of reunion, which could explain why fans are so psyched about this so-called reunion. Actor Matthew Perry, who played Chandler on the show, shut down rumors in 2012 of a possible Thanksgiving 2014 reunion episode "The One With the Reunion" for the finale's 10-year anniversary. "There is zero truth to this rumor," Perry tweeted at the time, to which fans replied "you crushed my dreams" and "you need to make this true."
In April 2015, Courteney Cox, who played Monica, essentially told Yahoo! Style fans need to get over the idea of a reunion ever happening. "Dear lord, let it go, people, we're not doing it," she said. "It's just not gonna happen."