People Are Sending Dildos to the Oregon Militants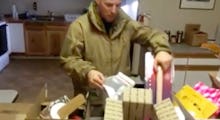 Mic/Facebook
Ammon Bundy and his crew of armed ranchers are still continuing their anti-government occupation of the Malheur National Wildlife Refuge, a federal building in Oregon. The standoff began earlier this month, and the occupiers have vowed to stay holed-up in the building "for as long as it takes." 
But apparently they didn't pack enough supplies, because during the standoff's second week, Bundy's mother asked supporters to send them supplies including socks, cigarettes and snacks, the Associated Press reported. Since the call for supplies, the armed occupiers have been receiving packages, but instead of beef jerky, some people are sending them dildos.
In a video posted to Facebook on Monday, Jon Ritzheimer, one of the armed men who is occupying the federal building, aired his complaints, calling the packages filled with glitter, dildos and other sex toys "hateful stuff."
"This one was really funny," Ritzheimer says at one point in the video. "A bag of dicks." Then he pushes all the sex toys off the table and onto the floor.
"We're going to continue to do what's right for our country," Ritzheimer adds before issuing a call to action, "Come here and be a patriot, come here and stand up for your country." Basically, Ritzheimer is saying that, they want fewer dildos and more friends. 
These "care packages" aren't the only dildo-related protests to make headlines in recent months: Back in December, Matt Haughey responded to the GOP's position on gun control by Photoshopping pictures of Republican politicians holding guns to make it look like they were actually holding giant dildos. That same month, counter-protesters showed up to a pro-gun event at University of Texas, Austin carrying dildos instead of weapons.