'Homeland' Season 6 Plot and Cast Info, Including a NYC Location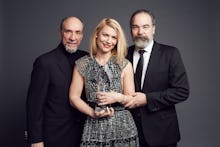 Smallz & Raskind/Getty Images
Carrie Mathison will continue her firsthand fight against terrorism, and this time around, she's back in New York City. Showtime's drama Homeland, which was created by Alex Gansa and Howard Gordon, will be returning for its sixth season, set — for the first time — against the backdrop of New York, Showtime's CEO David Nevins announced at the Television Critics Association on Tuesday, according to Entertainment Weekly. 
"[After setting the show in] Afghanistan, Pakistan and Europe, [we] wanted to do another America story," Nevins told Entertainment Weekly. "Also, I think the actors will be happy to be back in the U.S. for a year. I don't think it's necessarily going to stay there forever, but there was a strong interest in doing a domestic story from the creative team."
The Emmy-winning spy show, which began in 2011, follows CIA operations officer Mathison — played by Claire Danes — who has been reassigned to the counterterrorism center and is tracking down former Marine Nicholas Brody — played by Damian Lewis — who might've joined al-Qaeda. Mathison and her fellow CIA workers, such as Peter Quinn —  played by Rupert Friend — travel the world in the name of national security. The fifth season's December finale left off with quite the cliff-hanger, according to the Wall Street Journal. 
Read more:
The entirety of last season was shot in Berlin, but the show's been set in Virginia and Cape Town, South Africa, according to Entertainment Weekly. 
Unlike last season in Berlin, the show's new season will be primarily — but not exclusively — in New York City. "We are in awe how Alex Gansa and his writers reinvent Homeland every season," President of programming Gary Levine told Variety. "It's exciting to see how they bring it back to the U.S. and reinvent it again."
Little is known about the plot or premiere of the new season, according to Collider, but the show likes to base its storylines after real-world happenings. Two real-life characters you can likely rule out: Mexican kingpin El Chapo and Republican frontrunner Donald Trump, Collider reported.
Levine added that Gansa "sees many seasons to come."