Watch Madonna Honor David Bowie by Singing His "Rebel Rebel" in Concert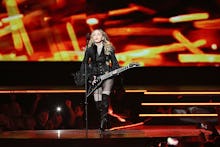 When news of David Bowie's death reached the masses Monday, Madonna was one of first artists to pay tribute, flooding Twitter and Facebook with pictures and stories of the star who "changed my life," as she wrote. Her words spoke volumes about the impact Bowie had, but words can only do so much. Wednesday, Madonna translated our loss into music, covering Bowie's "Rebel Rebel" at a Rebel Heart tour stop in Houston.
She channels a very convincing Bowie-esque sass during the number. Her strut is hardly slowed by her skirt, which begins to fall off her hips in the song's first few notes. However, that may have all been part of the design. It certainly fits the song's lyrics: "Rebel, rebel, you've torn your dress."
"He was one of the geniuses in the music industry, one of the greatest singer-songwriters of the 20th century, and he changed my life when I went to see him in concert in Detroit," Madonna says introducing the song. "He showed me that it was OK to be different. And he's the first Rebel Heart that I laid eyes on."
Madonna shared the story of the fateful Detroit concert where she first saw Bowie in far more detailed Facebook post Monday. 
"I snuck out of the house with my girlfriend wearing a cape," she wrote. "We got caught after and I was grounded for the summer. I didn't care ... At the time he was the Thin White Duke and he had mime artists on stage with him and very specific choreography. And I saw how he created a persona and used different art forms within the arena of rock and roll to create entertainment. I found him so inspiring and innovative."
Madonna has never been shy about her love for Bowie. In 1996, she accepted a Rock and Roll Hall of Fame award on his behalf, sharing the same Detroit story. "I don't think that I breathed for two hours," she said during her speech. "Here's this beautiful, androgynous man, just being so perverse. So unconventional, defying logic and basically blowing my mind."
Madonna's appreciation is far from the only musical tribute to Bowie since his death. Spontaneous sing-a-longs filled the air in Bowie's hometown of Brixton throughout Monday. In the Netherlands, the Dom Tower of Utrecht, Holland's tallest church tower, played the 1969 classic "Space Oddity" on its bells. On the Late Show With Stephen Colbert, indie rock band EL VY covered Bowie's 1983 hit "Let's Dance."
A formal tribute to the star has been organized in March at New York's Carnegie Hall. It sold out in 60 seconds, though some astronomically priced tickets are still available on StubHub, according to TMZ.