Is Smoking Hookah Worse Than Cigarettes?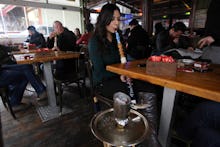 ADEM ALTAN/Getty Images
A study published on Monday by the University of Pittsburgh School of Medicine found that one session of smoking hookah — a communal water pipe characterized by its hose and flavored tobacco — has 125 times the smoke, 25 times the tar, 2.5 times the addictive nicotine and 10 times the carbon monoxide of a single cigarette. 
The study was a meta-analysis, or a mathematical summary of past data, and used 17 out of an original 542 articles to pull more accurate statistics. It attempts to tackle the many and somewhat convoluted studies already done in reaction to the rising popularity of hookah smoking. Lead author Brian A. Primack said he wants the study's results to help spread awareness on the dangers of smoking hookah and inspire closer monitoring.
Read more:
Many other studies also claim that hookah smoke is not less toxic than smoking cigarettes (one study's subjects smoked about 11 a day) and associate it with health dangers such as respiratory illness and lung cancer.
Hookah, which is a large water pipe used to smoke specially made tobacco, has origins that trace back to ancient Persia and India, according to the Centers for Disease Control and Prevention. To use a hookah, the user sucks on the attached mouthpiece and pipe, which is attached to a smoke chamber with water, which doesn't actually act as a filter, Forbes reported. The tobacco smoke travels from the heated bowl to the user's mouth, and delivers a high concentration of toxins.
The practice of hookah is social, as multiple people gather around the pipe. An average hookah session lasts about an hour, with users taking in 200 puffs, according to CNN. Cigarettes are smaller and burn faster, so that ease makes them smoked more frequently throughout the day, which was noted in the study. 
Over the past few years, teens have looked towards hookah as an alternative to the notoriously unhealthy cigarettes, according to the New York Times. About 18% of high schoolers and 40% of college students have tried hookah — and the number continues to rise.
But hookah is missing from the CDC's 2015 Youth Risk Behavior Surveillance Survey System questionnaire, which does list electronic cigarettes, regular cigarettes and chewing tobacco, and monitors prevalent health risks to teens, the study said. 
As exhibited by the survey, regulation is only beginning match hookah's growing popularity. While cigarettes are banned in some form in many major United States cities, hookah lounges are able to jump through policy loopholes to still operate, a study found in 2012. Some cities, like Seattle, are now trying taking measures to ban hookah, NPR reported.