5 Things to Watch for in the 6th GOP Debate on Fox Business Network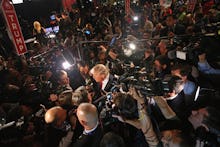 Republicans brawling for their party's presidential nomination face off on the debate stage in South Carolina Thursday night. With the stakes — and tensions — high, viewers might want to buckle up.
Seven candidates will take the main stage in Charleston for the sixth Republican debate of the primary cycle, hosted by Fox Business Network. Four candidates will participate in the so-called "undercard" debate at 6 p.m. Eastern. The debate is the first of the new year and comes after weeks of escalating attacks from candidates jockeying for position in Iowa and New Hampshire.
Here's what to watch for:
1. Who can break through and secure a ticket out of Iowa?
GOP juggernaut Donald Trump strolls into the North Charleston Coliseum with a healthy national lead in the Republican primary polls — but Texas Sen. Ted Cruz is creeping up on him in surveys of people likely to show for February's Iowa caucuses.
"If it is true that there are only three tickets out of Iowa, and two of them have already been punched by Trump and Cruz," predicted Heath Brown, a public policy professor at the Graduate Center at the City University of New York and writer on the Tea Party movement, in an interview with Mic. "I would imagine the debate [is] going to see a lot of sparring between Rubio, Bush and Christie for the last, centrist ticket."
Iowa State University political science professor Steffen Schmidt told Mic that he's waiting to see if one of those three candidates can score a much-needed "breakthrough moment and can consolidate a second place in Iowa or even galvanize the traditional Republicans around someone acceptable to the party."
2. Will Trump continue to go on the attack? 
Real estate magnate Trump comes into Charleston with a cushy 16-point lead over his nearest rival, Cruz, according to averages tracked by RealClearPolitics. 
"There's no need at this point for [Trump] to overplay his hand, because he's got some good wins going into the Iowa vote," former Republican National Committee chairman Michael Steele told Mic.
Of course, Trump is internationally famous as a man who speaks his mind — and seems to revel in rankling those who disagree. 
Steele's assessment: Trump should stay cool. "He is driving the national conversation right now and everybody is responding to that," Steele said. "[Thursday] night, I don't see him doing anything that much more different than he's done in the last debates. He can pick and choose when he wants to engage."
3. Will Cruz go after Trump?
Steele also notes that there's one more debate before Iowa Republicans cast their lots, which presents a tactical challenge for the candidates: "Do they start throwing sharp elbows [Thursday], or do they wait until the next debate?"
It's a toss-up, Steele told Mic. Candidates can throw haymakers in hopes of cutting down their foes and leaving an impression on the audience, but the risks are considerable: A full-on assault could backfire, leaving voters with the sense that a candidate is desperate or downright nasty.
"I'll be interested to see what others like Jeb [Bush] and [John] Kasich do to either mix it up themselves or get away from it," Steele said.
Schmidt's waiting to see if Trump —who's been raising questions about Cruz, the Canada-born son of an American-citizen mother — will really drop the gloves. 
"I will be watching for the final collapse of Trump/Cruz 'civility,'" he told Mic. "The 'birther' issue is getting under Cruz's skin because he did it to Obama and thought that was a good idea. Now he is on the receiving end."
4. How will the debate play in the Palmetto State?
Tantalizingly, the candidates are gathering in South Carolina two days after Gov. Nikki Haley called out both the president and her own party in the Republican response to the State of the Union address. 
Haley, the youngest governor in the United States and one of the most popular, delivered an unmistakable dress down Tuesday of Trump and his bombastic campaign style. That increases the potential for drama on and off the screen — and Haley is an oft-mentioned potential vice presidential pick, to boot.
"Trump has already come out against Haley, and I expect her presence to be a big part of the debate, especially at the intersection of immigration and tone [and] style of politics," Heath Brown of CUNY told Mic. "I think Cruz's response to Haley will be particularly interesting to watch for."
5. Who will be debating for the final time?
Thursday's debate relegated two more contenders to what's been snarkily dubbed "the kiddie table," and a major gaffe or underwhelming performance could increase other candidates' chances of being wiped off the TV debate map completely.
Based on their performance in a wide variety of recent polls, former Hewlett-Packard CEO Carly Fiorina and Kentucky Sen. Rand Paul failed to qualify for the main-stage debate, denying them the oxygen of a primetime chance to make their cases.
Paul, whose team said he's waging a "top-tier" campaign, said he would blow off the Thursday undercard debate entirely, although on Wednesday, he urged Fox Business Network to bump him up based on a new Des Moines Register survey of Iowa voters.
If Paul skips Charleston, that leaves Fiorina to share the 6 p.m. forum with two fellow long shots, former Arkansas Gov. Mike Huckabee and former Pennsylvania Sen. Rick Santorum. In a timely example of political reversals of fortune, both Huckabee and Santorum happen to be past Iowa caucus winners.
Other candidates in the once-jammed GOP field have long since packed it in for a lack of support or money or both. Among them: Louisiana Gov. Bobby Jindal, Wisconsin Gov. Scott Walker, former New York Gov. George Pataki, former Texas Gov. Rick Perry and South Carolina Sen. Lindsey Graham. 
"I will be looking for who 'dies' and is interred," Iowa State's Schmidt told Mic.  
"There are still too many contenders — and this debate could be the final moment for a few of them."