Nikki Haley's Real Name and Other Politicians Who Changed Theirs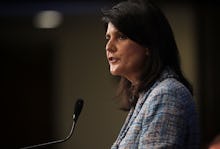 Alex Wong/Getty Images
After South Carolina Gov. Nikki Haley's official Republican response to President Obama's State of the Union address Tuesday, many took to Twitter not to discuss her points, but rather, her teeth. But the question of Haley's full name came up among the chatter as well. 
That's right, Haley's full name is Nimrata Randhawa Haley. Upon entering the political arena, the governor told the Charlotte Observer that she shortened her name to Nikki because her maiden name "wouldn't fit on a yard sign."
However, questions arose about her ethnicity when in 2011, the Associated Press reported that the Republican governor identified herself as "white" on her voter registration card in 2001. Some critics believe that Nikki Haley may have an underlying reason for hiding her racial identity.
"Given the racism inside her party, and the hostility toward non-white immigrants in so many places in the U.S., it's no wonder that Nimrata Randhawa would find it easier to maneuver the political terrain as Nikki Haley, that the Sikhism she was born into would be much more difficult to navigate than a conversion to Christianity," Eesha Pandit wrote in Salon in June.
Here are several politicians who have changed their names, all for various reasons:
VoteForEddie.com
In 2012, 32-year-old Eddie Gonzalez legally changed his name to "VoteForEddie.com" in an attempt to improve his campaign by drawing headlines to his name change. Confirmed by the Florida secretary of state, Gonzales' name appeared as "VoteForEddie.com" on the ballot. 
Bobby Jindal
The former Republican presidential candidate's real name is Piyush Jindal. According to The Daily Beast, Piyush became Bobby after a 4-year old Jindal "became mesmerized" by an episode of hit '70s TV series The Brady Bunch.
Ted Cruz
Born Rafael Edward Cruz, the presidential candidate wrote in his book, A Time For Truth, that he was originally known as "Felito." After being teased throughout his childhood, Cruz began answering to the nickname "Ted" at age 13. 
"The problem with that name was that it seemed to rhyme with every major corn chip on the market. Fritos, Cheetos, Doritos and Tostitos — a fact that other young children were quite happy to point out," Cruz wrote in A Time For Truth.
Pro-Life
Anti-abortion activist Marvin Richardson, who changed his name to Pro-Life, is no stranger to the political arena. According to ABC News, Pro-Life ran for and lost Idaho state legislature in 2004, governor in 2006, U.S. Senate in 2008, governor again in 2010, Congress in 2012, governor in 2014 and is seeking another Senate run in 2016.
Pro-Life was inspired by another man named Pro-Life, Andy Anderson, who was also an anti-abortion activist and politician. 
Gerald Ford
The 38th president of the United States was once known by another name: Leslie Lynch King Jr. However, Ford's parents split after his birth, when Ford's father threatened to kill him and his mother. Ford then later changed his name to Gerald Rudolff Ford Jr, after his stepfather, when Ford's mother remarried. The name change was not made official until Ford was 22 years old.
Bill Clinton
The 42nd president of the United States was born William Jefferson Blythe III, after his father. However, Clinton's father died and his widowed mother remarried Roger Clinton. The former president didn't formally adopt the surname "Clinton" until he turned 15.
Robert Mead C.P.A.
While running for the state treasurer's office in Kentucky, accountant Robert Mead legally changed his name to "Robert Mead C.P.A." in the 1980s.