EOS Lip Balm Is Being Sued for Allegedly Causing Customer's Lips to Blister and Bleed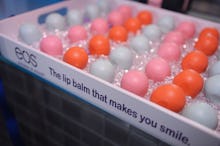 Michael Loccisano/Getty Images
EOS lip balm — the makers of those ubiquitous, egg-shaped lip balms sold at what feels like every drugstore checkout line — is facing a new class-action lawsuit. The suit, which was filed in California on Tuesday, is being brought by Rachel Cronin, who purchased the beauty product and then allegedly experienced painful bleeding, blistering and cracking after applying it to her lips.
Cronin purchased a "Summer Fruit" flavored EOS lip balm in December, according to the suit, using it the same day she bought it, and "within hours" she said her lips felt "like sandpaper."
"By the next day, Ms. Cronin's lips and surrounding skin had severe blistering and rashes causing her to seek medical care," the suit claims. 
"EOS" is an acronym that stands for "Evolution of smooth," and the class-action suit ominously states that "In reality, behind the smoke and mirrors, EOS is anything but smooth."
"We firmly believe this lawsuit is without merit," EOS told Time on Wednesday, responding to questions about the class-action suit. "The health and well-being of our customers is our top priority and millions of satisfied customers use our products every day, many of whom take the time to share their experiences with us."