The Signficance of Drake and Kendrick Lamar's "Cold War," and Why It's Great for Hip-Hop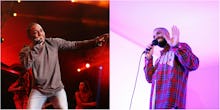 The ever-greying President Barack Obama faced yet another controversial decision Friday that will doubtlessly impact the future of this great nation. Sitting down for a livestreamed YouTube interview, YouTube vlogger Swoozie asked the commander-in-chief to weigh in on one of the most divisive hip-hop rivalries of our time: Kendrick Lamar or Drake? He settled the debate without hesitating or flip-flopping.
"I think Drake is an outstanding entertainer but Kendrick, his lyrics, his last album was outstanding," Obama said. "Best album, I think, last year."
His answer wasn't exactly surprising. In December, Obama named "How Much a Dollar Cost?" as his favorite track of 2015. But it was certainly surreal. The president of the United States was being consulted on the current state of hip-hop, a genre politicians have demonized for years, in the east room of the White House. 
Then again, Drake and Lamar's ongoing "cold war," as many publications have described it, is the most compelling musical rivalry hip-hop has enjoyed since 50 Cent and Kanye West squared off. Fans, Obama included, know exactly how important these kinds of rivalries are for the genre.
Just like it did during Nas and Jay-Z's "Ether" wars, and Notorious B.I.G. and Tupac's East Coast/West Coast feud, the whole genre gets lifted when titans clash. The music enjoys the renewed media attention, and artists across the board seem to access new levels of motivation. 
However, unlike past struggles, rarely have the two MCs battling for the throne held such radically different artistic missions. Lamar and Drake represent two very different kinds of hip-hop: one enmeshed in politics and principles, the other a slick and streamlined product. In this way, it makes this battle far more than a short-lived duel of wits. The outcome may determine the shape of hip-hop's landscape for years to come.
Background: Publications have been describing Lamar and Drake's war of words as a "cold war," rather than a full, hot beef for several reasons. Neither MC has regularly called the other out directly, save Lamar on his "Control" verse in 2013, which encouraged Drake to share he was not working with Kendrick Lamar anymore.  They've chosen instead to use their TV appearences, albums and guest features to aim subliminal disses at the other from around the curtain.
"Motherfuckers know I started from the bottom," Lamar rapped on Dr. Dre's "Deep Water," quoting a well-known Drake line. "They liable to bury him, they nominated six to carry him/ They worrying him to death, but he's no vegetarian/ The beef is on his breath, inheriting the drama better than/ A great white, nigga, this is life in my aquarium."
Critics spent 2015 digging through the pair's lyrics, looking for points of contact. 
"And if a nigga say my name, he the hot shit/ But if I say the nigga name, he still the hot shit," Drake spit on Future's remix to "Shit," widely interpreted as a Lamar reference. "Yeah, I just think it's funny how they dangling the bait/ But I'm the one that's killing niggas on the hooks though."
Drake's lines on "Shit" actually speak to the biggest difference between the MCs, and why this battle between the two of them is really a battle for the heart and soul of hip-hop. Drake is comfortable working within the standards of the pop machine. He's concerned more with the craft than remaining true to hip-hop's original values, which place a high premium on authenticity and authorship.
This is why he feels it's okay to use co-writers and reference tracks, as Meek Mill accused him of in July, and which Drake didn't exactly deny in a Fader feature. Drake has even worked as a ghostwriter himself.
Essentially the question becomes: Which artist will stumble first? 
Lamar, on the other hand, places little value on crafting music for the pop charts. He's looking to tap into something much more challenging.
"I think that the depth is needed," he told NPR in December, describing his motivations. "There's a lot of other artists doing things outside of that depth that I enjoy — that music that I can actually have fun to, and not be in depth and think about, then I appreciate that. But as long as I'm doing it right now, I'ma continue to say just a little bit more that pertains to what's going on."
There are cons to Lamar's approach. To some critics, his music can be more of an intellectual exercise, rather than an a enjoyable one. That mad, stumbling race to laud Lamar's craft has proved a turn off to those who like to hear music speak for itself. Proof of that assumption: Lamar's To Pimp a Butterfly topped both Pitchfork's top album and most overrated album lists of 2015.
Essentially, the question becomes: Which artist will stumble first? Will Drake's "imminently" arriving Views From the 6 continue his vision for a perfect pop and hip-hop synthesis? Will it flop? Will Lamar cash in on his record-breaking 11 Grammy nominations, the most a rapper has ever received in a single year? He'll also possibly be dropping a collaborative album with J. Cole, a like-minded, politically conscious artist — how will that perform?
Source: Soundcloud
These questions will a go a long way towards establishing which brand of hip-hop is the most vital in 2016 and which way the pendulum will swing in the coming years. 
Until the dust clears, this clash will continue tp provide new attention and growth opportunities for the genre. It's currently providing in a kind of balance that other hip-hop luminaries have made special note of.
"Kendrick, the way he puts albums together — front to back, they're like pieces of art," Eminem told the New York Times in July. "But hip-hop needs Drake, too ... I feel like hip-hop is in a good place right now. There's this balance of things going on, and it feels like some of the best rappers are the most successful. Sometimes that's not the case."
It's an invitation to hope. With Lamar and Drake's rivalry helming the genre, hip-hop heads should feel more of it than Obama's supporters felt when he was emblazoning the word on his campaign posters.