Puppy Bowl 2016: Where to Watch, Photos and Trailer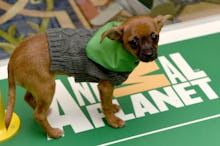 Amanda Edwards/Getty Images
Animal Planet's annual Puppy Bowl, the adorable alternative event for everyone who would rather watch puppies than football, will air on Animal Planet on Sunday, Feb. 7 from 3 p.m. to 5 p.m Eastern — the same day as Super Bowl XLV.
The animal-themed network has been gearing up for Puppy Bowl XII by releasing promos showing the puppies frolicking around in their little arena and playing with toys and stuff. Of course, the best part of the Puppy Bowl is that all of the featured puppies are up for adoption, according to Animal Planet's website.
Just before the big event, Animal Planet will air a "Puppy Bowl Pre-Game Show," starting at 2:30 p.m. Eastern, "which features analysis and commentary from a team of sports correspondents." 
In addition to the 49 rescue puppies that will be competing for the coveted title of "Most Valuable Puppy," this year's Puppy Bowl will also feature Stanley the Skunk as the "rufferee" as well as an all-kitten halftime show.