How Fresno, California, Became a Hotspot for Anti-Sikh Violence in America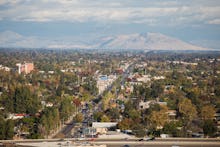 It's been almost three weeks since 68-year-old Gurcharan Singh Gill was found stabbed to death at a liquor store in Fresno, California, and authorities in the city still haven't found his killer. 
Surveillance footage has provided clues — a pale, red-clad young man filmed attacking Gill on New Year's Day is the main suspect — but neither that, nor the $10,000 reward being offered for his whereabouts, have yielded an arrest.
Gill's murder was the first homicide of 2016 for the central California city. The week before, three miles west at the corner of Shields and Brunswick Avenues, another 68-year-old Sikh man was attacked while waiting for his ride to work on Dec. 26.
"Why are you here?" the two white assailants shouted, hitting Amrik Singh Bal with their car and beating him so viciously they broke his collarbone.
The proximity of these incidents doesn't define the Sikh experience in Fresno — the Central Valley's Sikh population enjoys a level of comfort and rich history uncommon in the rest of the country — but residents are concerned about the pattern they hint at.
You don't have to look far to see why. In an era when xenophobic rhetoric is being spewed by a major political party's leading presidential candidate, and when acts of violence against perceived foreigners make headlines on a regular basis, the safety of Sikh communities across the United States feels as tenuous as ever.
"The recent violence in Fresno is not isolated," Valarie Kaur, a Sikh advocate, lawyer, filmmaker and Fresno native, said. "It is part of a long history of racism and xenophobia that has surged to the surface in the wake of terrorist attacks throughout the last century and especially since 9/11."
Over this time span, Sikh men especially have made easy targets. Their distinctive long facial hair and turbans provide glaring visual markers of difference, making them targets for ridicule, harassment and brutality in many cases.
Meanwhile, violence against Sikhs in the U.S. has increased dramatically in the last 15 years, according to numerous reports. The first person killed in a 9/11-related hate crime was a Sikh gas station owner in Arizona named Balbir Singh Sodhi. In 2012, a white supremacist named Wade Michael Page walked into a Sikh temple — or gurdwara — in Oak Creek, Wisconsin, and opened fire, killing six people.
The bigger story being peddled about this violence is that the perpetrators are mistaking Sikhs for Muslims. One man attacked in Chicago last year was reportedly called "terrorist" and "bin Laden" by his assailants, while similar slurs have been used in other cases too.
But talk to Sikhs in the Central Valley and a more complex picture emerges — one rooted in the history and politics of one of the most established Sikh communities in America.
"It's different here, where there's such a Sikh presence," Deep Singh, acting director of the Jakara Movement — a California-based Sikh youth organization — said of the recent violence, "in the same way being Mexican in Iowa is different from being Mexican in Los Angeles."
If there's a place where folks are less likely to "mistake" Sikhs for Muslims, Singh says, it's the Central Valley. 
"In my 15 years as an advocate responding to hate crimes, it doesn't matter to most perpetrators whether their targets are Sikh or Muslim," advocate and filmmaker Kaur added. "The men who attacked Amrik Singh Bal would likely not have stopped if they knew the turbaned and bearded man they were beating was a Sikh rather than a Muslim."
There is a precedent for anti-Sikh violence in the U.S. Simran Jeet Singh, professor of religion at Trinity University in San Antonio, Texas, explained parts of it last week. "We know the first moment of xenophobic violence against [American] Sikhs happened around the first decade they arrived," he said. "That was the Bellingham riots in 1907."
On Sept. 4 of that year, a mob of angry white men descended on the Indian community in Bellingham, Washington, claiming that Sikh men were stealing their jobs in the lumber yards. "It was not Islamophobic at all in its rhetoric," Singh said. "They specifically targeted Sikh Americans."
A long history of Sikhs in California: Despite this legacy, the West Coast has become a sort of mecca for Sikhs in the U.S. The Merced Sun-Star estimates more than 25% of American Sikhs live in California, while other reports have suggested as many as half (reliable numbers are hard to come by, since the U.S. Census does not track religion).
Most California Sikhs live in the north and Central Valley, where they've had a presence for more than 100 years. "Central California is probably the most densely populated Sikh community in the U.S.," Deep, the youth director, said.
He elaborated that Sikh prominence has manifested itself in local politics. "You have Sikhs on the city councils in some of these towns," he said. "A couple cities have had Sikh mayors."
California Sikhs, like Deep's father, a former cab driver, have been migrating to the region for decades, initially working odd and low-wage jobs to get by. The Punjab region of India — from which most Sikhs hail ancestrally — has a heavily agrarian economy, so it's no surprise that many in California started as farmers or, in the case of women, livestock factory workers.
"Like, all of our moms worked in Foster Farms chicken factories," Deep Singh said. "It had to be the single largest employer of Sikhs for a while."
Economic factors may play into perceived differences. Eventually, many Sikhs started getting into trucking, where salaries were generous enough that families could start pooling their money, buying gas stations, liquor stores and land. A relative sense of establishment followed in the '80s and '90s, Deep Singh said, with telltale Sikh cultural markers popping up across the region.
"To white people it must look hella weird," he said, "seeing all these gurdwaras up and down Highway 99 [the 420-mile stretch of road that splits the Central Valley]."
Unfortunately, the same prosperity hasn't blessed the rest of the region in kind, and that may be contributing to recent tensions. Take a look at Fresno. Most Americans can recount horror stories from the Great Recession, but few can claim the kind of deleterious impact felt by people here — at 516,000 residents, the fifth most populous city in the most populous state in the country.
In 2008, only 11 U.S. cities saw more housing foreclosures than Fresno, according to Bloomberg. A recent Time documentary, The New Poor of Fresno, paints a picture of a dusty, smog-choked mid-sized metropolis, where poor residents increasingly find themselves living in tent cities beneath overpasses spewing the chemicals that made Fresno the most polluted city in California in 2014.
It doesn't stop there. Last year, Fresno had the distinction of being the only city in the state to rank among those with the most concentrated poverty nationwide. The distinction transcended racial categories, too. Not only did Fresno have among the highest concentrations of Hispanic poverty (the city is almost 50% Hispanic), but also high rates of black and white poverty as well.
Still, it's hard to definitively source the animosity behind the anti-Sikh attacks of recent years. Whether it's the events of the last few weeks — the beating of Amrik Singh Bal and the New Year's liquor store murder, which may or may not be a hate crime — or the notorious 2013 beating that left 82-year-old Piara Singh in the hospital, Fresno has drawn attention from people across the country as a place where anti-Sikh violence appears to be boiling over.
"There's no question it's part of a broader pattern of violence and harassment against Sikhs that we're seeing," said Simran Jeet Singh, the religion professor. "I can speak to that as someone who's working on these issues, and from anecdotal experience. I've been called more names on the street in last two weeks than last two years."
But in a city where people are losing their homes left and right, and the volume of folks living below the poverty line is twice the state average, it's hard to deny the presence of environmental factors that would have bred similar levels of violence — and crime — independent of the xenophobic rhetoric popping up across America.
So what's actually going on in "the best little city in the U.S.A."? To hear Deep Singh tell it, recent tensions might just stem from the same, good old-fashioned American racism that made his father's early years in Fresno such a struggle. "If you asked my dad, he'd say it was way more racist when he came in the 1970s," Singh said. "And you know what? He might be right. He'll tell me stories, and I'll be like, 'Fuck. People said that to you?'"
The history of people of color in the U.S. is rich with people like Donald Trump, hate crime spikes and periodic explosions of xenophobic violence. There's little reason to believe it'll go away soon. "There's a general feeling that this will probably happen again," Singh said. "All you can do is be more vigilant."
"But there isn't a general feeling of fear, or, 'Why is it happening here?'" he added. "I'd describe the mood as apprehension. But nobody is looking over their shoulder more. It's just seen as, there's always been a certain amount of racism.
"Things are improving," he added. "But by no means are they perfect."