The Winning Powerball Tickets Have Been Sold. Here's What We Know.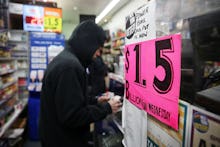 The largest lottery prize in history, at a record-shattering $1.5 billion, will be shared between at least three winners. According to the California Lottery Wednesday night, one winning ticket was sold in Chino Hills, California. Two more winning tickers were sold in Florida and Tennessee.
The winning lottery numbers were 4, 8, 19, 27, 34, and the Powerball number was 10. 
Read more:
According to CNN Money, owner of the 7-Eleven that sold one winning ticket in California, Balbir Atwal, called the news "very exciting." Owner of the 7-Eleven for 24 years, Atwal will receive a $1 million dollar bonus for owning the store that sold the winning ticket.
"I didn't expect this big crowd but my Chino Hills customers love me, and I love them," Atwal told CNN Money. 
Chino Hills, a suburb of Los Angeles, is listed as having the 6th-highest average income in the US for cities with a population between 65,000 to 250,000.
The lottery winners must decide whether to take the winnings in 30 payments over 29 years, or take the money in one lump sum. The odds of winning were 1 in 292 million.
Since the jackpot started at $40 million in Nov. 2015, there were 19 consecutive Powerball drawings with no announcement of a winner, until Wednesday.
The identities of the lottery winners have not yet been revealed, but the winnings will be split evenly between the ticket holders.