Adele's Car Karaoke with James Corden Is Epic, Earns High Praise from Nicki Minaj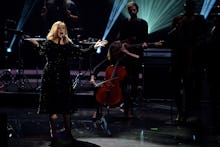 Sascha Steinbach/Getty Images
Adele joined Late Late Show host James Corden for what fans are calling the "Best Carpool Karaoke ever".
The duo came together Wednesday night for Corden's "Carpool Karaoke" segment, which has featured stars like Stevie Wonder, Justin Bieber and One Direction. During their joyride around London, the two sang a few of Adele's most popular hits, such as "Hello" and "Rolling in the Deep".
Read more:
The British singer wowed the late night host, who called Adele "the female Phil Collins" during the segment, with a Spice Girls cover. The two sang the 1996 Spice Girls breakout hit, "Wannabe".
"It was a huge moment in my life when they came out," the singer recalls, when Corden asks of Adele's memories of the Spice Girls. "It was girl power. It was these five ordinary girls who just like, did so well and got out and I was like, I wanna get out. I didn't know what I wanted to get out of, but I wanted to get out and it was a really important period in my life."
The 27 year old singer also rapped her own cover of Nicki Minaj's verse in Kanye West's 2010 hit single "Monster", much to the delight of Minaj.
Adele gave her fans insight on what her album may look like in the future.
"One of the reasons I name my albums after my age is that they're sort of polaroids of my life at that time," Adele told Corden during the car ride. When the late night host asked when she'll stop, Adele replied, "This is the last album after my age. I believe in trilogies." 
"I want the next one to be, like, 77." Corden joked.
The British singer's North American, which begins July 5 in St. Paul, Minnesota and ends Nov. 15 in Mexico City, Mexico, sold out in minutes.