Steven Avery's Ex-Girlfriend's Confession Might Change Our Minds About His Innocence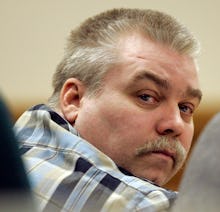 Morry Gash/AP
In a shocking update Wednesday night, the ex-fiancée of convicted murderer Steven Avery told the world "he's not innocent." Avery, the subject of Netflix's popular crime documentary Making a Murderer, is presumed by many to be innocent in the 2005 murder of Teresa Halbach, a local photographer.
However, Jodi Stachowski's interview with HLN's Nancy Grace show has many viewers scratching their heads. "Steven's the one person I don't trust," Stachowski said in the interview, according to the Daily Beast. "He's like Dr. Jekyll and Mr. Hyde, behind closed doors, he's a monster." This revelation comes as a surprise to those who recognize Stachowski as a caring partner to Avery. 
Read more:
Stachowski told HLN senior producer Natisha Lance that she knew Avery was guilty of murder "because of the way I know he is." When the interviewer asked Stachowski if Avery was capable of murder, Stachowski acknowledged that he could have been. 
"Yeah," Stachowski told Lance during the interview, as reported by the Daily Beast. "Hurting people. He told me once, excuse my language, 'all bitches owe him' because of the one that sent him to prison the first time. We all owed him."
Making a Murderer follows Avery, who spent 18 years in prison after being convicted of sexual assault in 1985. He was then exonerated and released in 2003, and then sentenced for the 2005 murder of Halbach, although the evidence is unclear. But Stachowski believes the time has come to reveal "what a monster he is," she said during the interview. "He's not innocent."
Avery met Stachowski in 2003, after his release from prison. Stachowski allegedly told directors Laura Ricciardi and Moira Demos that she was not interested in being on Making A Murderer. "Steven called me and told me that if I didn't say anything good and nice about him, I'd pay," Stachowski told Lance, according to MTV. "He'd beat me."
Twitter had mixed reactions toward Stachowski's revelation, much of it skepticism. 
Stachowski's two-year relationship with Avery was troubled, and filled with alleged abuse, according to Stachowski. "I ate two boxes of rat poison just so I could go to the hospital and get away from him and ask them to get the police to help me," she told Lance during the segment, according to the Daily Beast.
During the interview, Stachowski recalled Avery threatening to burn her house down, verbally threatening her and physically assaulting her. "I was in a bath and he threatened to throw a blow dryer in there, and he told me that he'd be able to get away with it," Stachowski told Lance.
"He'd beat me all the time, punch me, throw me against the wall. I tried to leave and he smashed the windshield out of my car so I couldn't leave him." 
When asked if she believes Avery is guilty of killing Halbach, Stachowski said, "I do, because he threatened to kill me and my family and a friend of mine."
Stachowski, who maintains that she has never watched an episode of Making A Murderer, said the documentary is "all lies."
"It was all an act," Stachowski told Lance, the Daily Beast reported. "He told me how to act. He said smile, be happy. I didn't know what to do. I didn't want to get hurt."