Gut-Wrenching Photos Show Mayhem Caused by Coordinated ISIS Attacks in Jakarta, Indonesia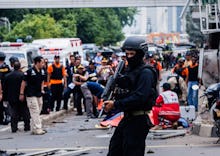 In densely populated downtown Jakarta, Indonesia's capital, at least seven people have died in a series of coordinated attacks, including explosions and extended gunfire. 
Among those dead are five suspected assailants and two civilians, the New York Times reports.
The attacks occurred in a central commercial district in proximity to the United Nations and numerous embassies. Specifically, the upscale Sarinah mall was targeted, home to a number of Western brand-name outlets. 
In a series of tweets, Rukmini Callimachi, the New York Times' ISIS correspondent, echoed a number of news outlets declaring the attacks were likely carried out by the Islamic State group. 
Al-Amaq, a so-called news outlet closely affiliated to the terrorist network, said the following in an Arabic tweet, according to Callimachi: "A source for Amaq Agency: Fighters for Islamic State carried out this morning an armed attack targeted foreign nationals & security forces tasked with protecting them in the Indonesian capital, Jakarta."
"They imitated the terror actions in Paris ... they are likely from the [Islamic State] group," police spokesman Gen. Anton Charliyan said, according to the Guardian. 
One suicide bomber blew themselves up at a Starbucks in the popular mall — immediately afterward, two armed assailants seized an Algerian and Dutch person outside the coffee shop, took them hostage and shot them, CNN reported. Only the Algerian survived and a shootout ensued. 
In retaliation to police, the assailants threw grenades, followed by yet another two attackers charging at police on a motorcycle, both of whom then detonated suicide bombs, according to CNN.
Gun battles between police and attackers went on for a number of hours before security forces were able to secure the area.
A UN regional representative, Jeremy Douglas, live-tweeted the attacks from his office nearby.
At 3:07 a.m. Eastern, Douglas tweeted the lockdown on the area was about to be lifted. 
A defiant statement on national television came from Indonesian President Joko Widodo. "The state, nation and people should not be afraid of, and lose to, such terror acts," Widodo said, according to the Guardian.