A Spanish Politician Was Just Slammed for Breastfeeding Her Son During a Parliament Recess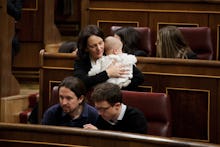 Under most circumstances, the personal is the political. But when Spanish parliament member Carolina Bescansa called a recess to breastfeed her 5-month-old son after a three-hour session, it was out of pure necessity.
Many of her fellow politicians had a hard time seeing it that way, accusing Bescansa, the deputy leader of the far-left Podemos party, of using her son to gain political points, according to the Guardian. Populist party member Beatriz Escudero tweeted that Bescansa was in violation of the parliamentary rules by bringing her son to work with her at all: The infant, she pointed out, is not an elected official. She wrote, "No one can enter the floor who isn't elected. Violation."
Escudero followed up with another tweet, adding, "We are witnessing a spectacle with the use of a baby. They passed the child from one hand to the other for a photo. Inappropriate."
Despite what Escudero may claim, Bescansa was well within her rights. Spanish mothers are entitled to a one-hour break to breastfeed children who are 9 months or younger. "It's time that this chamber started to resemble the rest of the country," Bescana said, according to the Guardian, 
The Department of Labor affords women in the United States similar rights, allowing them to take a break to breastfeed in the workplace. But a Republican representative in New Hampshire recently proposed legislation forbidding women to publicly expose their nipples or breasts. When his female colleague pointed out that it infringes on a mother's ability to breastfeed, he said, "If it's a woman's natural inclination to pull her nipple out in public and you support that, than [sic] you should have no problem with a mans inclantion [sic] to stare at it and grab it. After all... It's ALL relative and natural, right?" 
Though the right for a woman to breastfeed in public and in her workplace is typically among feminist causes, Bescana also received criticism from a number of women's organizations who, according to the Guardian, accused her of "perpetuating the idea that it's a woman's job to care for children." 
Bescana is not the first mother to bring her child to the parliament floor. Licia Ronzulli, Italian member of the European Parliament in Strasbourg, has been bringing her daughter Vitorra to work with her since she was 6 weeks old. As Vitorra grew older, she even began raising her hand to vote alongside her mom. 
Bescana stated what, to her fellow Parliament members, should have been obvious. She said, "If a mother has to care for her child she has to care for him wherever."