Alan Rickman, Beloved Film Star, Has Died at Age 69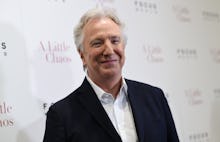 Evan Agostini/AP
Alan Rickman, British actor and television star who starred in films such as Harry Potter, Die Hard and Dogma, has died at age 69, the Guardian reports. The actor's family confirmed his death and that Rickman had cancer.
"The actor and director Alan Rickman has died from cancer at the age of 69. He was surrounded by family and friends," a statement from the family read.
Born in Hammersmith, a district in West London, the British actor inspired thousands with his broad acting range, and his career spanned more than 30 years. Rickman first began acting in 1978, playing the role of Romeo's primary antagonist Tybalt in Romeo and Juliet.
Rickman became one of film and theater's most revered actors, shifting between the roles of villain, voice actor, and director seamlessly. The actor previously directed Emma Thompson in the 1997 film The Winter Guest and Kate Winslet in the 2014 film A Little Chaos.
Best known by his younger fans for his role as the mean spirited Professor Severus Snape in the Harry Potter film series, older fans may recognize Rickman as Hans Gruber, the German antagonist from the 1988 film Die Hard.
Rickman also appeared in the films Galaxy Quest, Robin Hood: Prince of Thieves, Sense and Sensibility and Truly, Madly, Deeply.  Although the British actor never won an Oscar, Rickman filled his award case with a BAFTA Award, Golden Globe, Primetime Emmy, and SAG Award during his prestigious career.
Rickman leaves behind his partner of more than 50 years, Rima Horton. 
The actor will have one final voice acting role in Alice Through the Looking Glass, the sequel to the 2010 film Alice in Wonderland. The film has been completed, and Rickman will voice Absolem the Caterpillar.
Mic will update this story as more information is available.