No, You Don't Need Lululemon — Here's What "Yoga Clothes" Really Look Like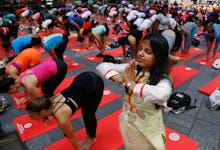 Let it all go. Choose joy. Breathe. 
At least that's what the inspirational yoga photos on Instagram tell us to do. But it can be hard to let go when you're contorted in front of a mirror wondering how your butt looks in those $98 yoga pants. 
Yoga, which first arrived on our shores over a century ago and remained a relatively niche practice until the 1990s, is now a massive $10 billion industry. Much of that money is spent on yoga clothes. With yoga's mainstream popularity has come a uniform, developed over several decades, but codified by the likes of Lululemon and its peers in recent years.
Tight pants, crop tops, neon colors, fitted tanks — that's the uniform worn by models like Gisele and Instagram yoginis alike, the kind we tend to assume we need if we want to hit the mat. But that modern vision is, unsurprisingly, far removed from the Indian tradition yoga is rooted in.
Back in India, yoga didn't traditionally involve legging-like "yoga pants."
Scholars say yoga dates back over two millennia to ancient India. In more recent centuries (since photography has been around), yoga practitioners in India traditionally wore a loose piece of clothing called a dhoti, according to Malika Baruah, co-founder of Proyog, an apparel company that makes modern yoga clothing inspired by the traditional garment. Men left their chests exposed and women covered themselves with a bandeau top or even a sari.
"A lot of urban practitioners [in India] wear tights and pants with tees, but traditional schools continue to encourage the use of the dhoti," Baruah told Mic. "Serious yogis in India definitely continue to wear variations of the dhoti. Also, in India most practitioners would consciously choose a material that is natural, like cotton."
"Materials that are tight fitting and compress the body are not right for a practice that is centered around breath."
As yoga made its way to the United States, practitioners wore a variety of clothes, from tights and leotards to looser pants and T-shirts.
Ultimately, yoga clothing should facilitate movement and make you feel comfortable. That doesn't mean you have to wear a dhoti, but it is worth paying heed to the birthplace of yoga, especially if you don't want to wear "yoga pants."
"I did not know of special yoga clothing until I moved [to the United States]," wrote Arundhati Baitmangalkar in Seattle Yoga News, comparing her experiences of yoga classes in India versus those in the United States. "In India, people show up in very casual comfortable everyday clothes for a class. They do not spend a lot of money accessorizing themselves to look good in class. 
"After all, yoga is about detaching from the body and senses."
But the way yoga is packaged now — as an airbrushed world of sunsets and super-toned athletes — means concerns over our appearances tend to creep into class when they should really be the last thing on our minds. 
"This puts a lot of pressure on those who are interested in starting a yoga practice, but at the end of the day become really intimidated to see a class full of skinny girls wearing expensive brands," yoga teacher Daniela Seijas told Mic.
In fact, yoga pants are now such a desirable lifestyle statement that plenty of people are wearing them without going anywhere near a yoga studio. A 2014 Sports & Fitness Industry Association report found that participation in yoga participation grew by 4.5% in 2013, according to the Wall Street Journal, while yoga apparel sales grew 45%. 
But the American yoga wardrobe is due for a change, or at least some more options. Stretchy yoga pants often command high prices and can even be bad for your health. Many plus-size yoga fans have also felt excluded by apparel brands like Lululemon, which has come under fire for its small sizes.  
"The most important thing is you wear something that you're comfortable in your body in and that you're prepared to get nice and sweaty," yoga instructor Kino MacGregor wrote in a clothing guide for yoga newbies.
Yoga pants aren't automatically out, but they should be made from breathable fabrics to avoid those possible risks.
"One should under no circumstances use plastic clothing like nylon and polyester for yoga. But unfortunately, nine out of 10 yogis wear plastic garments for yoga in the western world," Proyog's Baruah told Mic. 
"You don't need the expensive yoga mat or top quality yoga clothes (although it would be sweet). You don't need to have a membership on the coolest yoga studio in your neighborhood," Seijas said. "What you need is your body as it is, comfy clothes and the will and disposition to create a path toward wellness and well-being."
No photos of sunlit backbends on beaches squeezed between brunch pictures necessary.