Oscars 2016 Nominations: Full List of Nominees for Every Major Category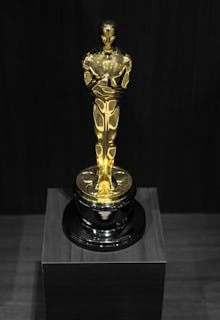 Kris Connor/Getty Images
After months of speculating and predicting, Oscars nominations for all 24 categories are being announced in a live broadcast this morning. At 8:30 a.m. Eastern, directors Guillermo del Toro and Ang Lee announce nominees for 12 categories including big ones like cinematography, documentary feature and directing, and at 8:38 a.m. Eastern, actor John Krasinski and Academy of Motion Picture Arts and Sciences President Cheryl Boone Isaacs announce the second half. 
Best picture:
The Big Short
Bridge of Spies
Brooklyn
Mad Max: Fury Road
The Martian
The Revenant
Room
Spotlight
Best actor:
Bryan Cranston in Trumbo
Matt Damon in The Martian
Leonardo DiCaprio in The Revenant
Michael Fassbender in Steve Jobs
Eddie Redmayne in The Danish Girl
Best actress:
Cate Blanchett in Carol
Brie Larson in Room
Jennifer Lawrence in Joy
Charlotte Rampling in 45 Years
Saoirse Ronan in Brooklyn
Best supporting actress:
Jennifer Jason Leigh in The Hateful Eight
Rooney Mara in Carol
Rachel McAdams in Spotlight
Alicia Vikander in The Danish Girl
Kate Winslet in Steve Jobs
Best supporting actor:
Christian Bale in The Big Short
Tom Hardy in The Revenant
Mark Ruffalo in Spotlight
Mark Rylance in Bridge of Spies
Sylvester Stallone in Creed
Costume design:
Carol
Cinderella
The Danish Girl
Mad Max: Fury Road
The Revenant
Original song:
"Earned It" — Fifty Shades of Grey
"Manta Ray" — Racing Extinction
"Simple Song #3" — Youth
"Til It Happens to You" — The Hunting Ground
"Writings on the Wall" —  Spectre
Documentary short subject:
Body Team 12
Chau, Beyond the Lines
Claude Lanzmann 
A Girl in the River: The Price of Forgiveness
Last Day of Freedom
Documentary feature:
Amy
Cartel Land
The Look of Silence
What Happened, Miss Simone?
Winter on Fire: Ukraine's Fight for Freedom
Cinematography:
Carol
The Hateful Eight
Mad Max: Fury Road
The Revenant
Sicario
Best animated feature:
Anomalisa
Boy and the World
Inside Out
Shaun the Sheep
When Marnie Was There
Best animated short film:
Bear Story
Prologue
Sanjay's Super Team
We Can't Live Without Cosmos
World of Tomorrow
Best live action short film:
Ave Maria
Day One
Everything Will Be Okay
Shok
Stutterer
Directing:
The Big Short
Mad Max: Fury Road
The Revenant
Room
Spotlight
Original screenplay:
Bridge of Spies
Ex Machina
Inside Out
Spotlight
Straight Outta Compton
Adapted screenplay:
The Big Short
Brooklyn
Carol
The Martian
Room
Production design:
Bridge of Spies
The Danish Girl
Mad Max: Fury Road
The Martian
The Revenant
Film editing:
The Big Short
Mad Max: Fury Road
The Revenant
Spotlight
Star Wars: The Force Awakens
Visual effects:
Ex Machina
Mad Max: Fury Road
The Martian
The Revenant
Star Wars: The Force Awakens
Foreign language film:
Embrace of the Serpent
Mustang
Son of Saul
Theeb
A War
Original score:
Bridge of Spies
Carol
The Hateful Eight
Sicario
Star Wars: The Force Awakens
Sound editing:
Mad Max: Fury Road
The Martian
The Revenant
Sicario
Star Wars: The Force Awakens
Sound mixing:
Bridge of Spies
Mad Max: Fury Road
The Martian
The Revenant
Star Wars: The Force Awakens
Makeup and hairstyling:
Mad Max: Fury Road
The 100 Year-Old Man Who Climbed Out the Window and Disappeared
The Revenant