David Bowie Breaks Adele's Vevo Record for Most Views in a Single Day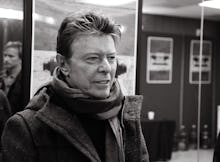 David Bowie continues to push boundaries in pop even after his death.
On Jan. 11, the date the Starman's death was announced, his Vevo catalog garnered an incredible 51 million views. The accomplishment trumps Adele's previous record of 36 million views, which she set on October 23, 2015 when she released the flip-phone centric video for "Hello."
One can consider this feat Bowie's own "Hello" from the other side.
Bowie has always been celebrated for his meticulous attention to the visual details of his work. He was a master of the music video, as the New York Times wrote in remembrance.
According to the Verge, Vevo reported that views of Bowie's Vevo channel — which contains mostly live cuts and songs off his most recent album Blackstar, 2013's The Next Day and his 90s albums — increased 5,198% on Monday compared to the previous seven days. The most watched video was his most recent "Lazarus," which many have interpreted as consciously foreshadowing Bowie's own death. 
The disturbing video shows an infirm Bowie getting up from his hospital bed, dancing around the room before retreating into a dark closet and closing the door behind him. The song's lyrics support this view: "Look up here, I'm in heaven/ I've got scars that can't be seen," Bowie sings. "Oh I'll be free/ Just like that bluebird/ Oh I'll be free/ Ain't that just like me?"
Bowie's longtime producer Tony Visconti encouraged this interpretation in his own tribute to the genius. He described Blackstar as Bowie's "parting gift," adding, "His death was no different from his life — a work of Art."
Watch Bowie's full "Lazarus" video below and pay one more homage to the master.