The Gold Standard of Iowa Polls Shows Hillary Clinton and Bernie Sanders Tied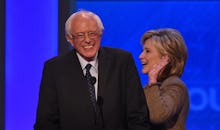 Former Secretary of State Hillary Clinton's lead over Sen. Bernie Sanders (I-Vt.) has eroded in Iowa, with the two candidates effectively tied less than three weeks before the Hawkeye State's Feb. 1 caucuses.
That's according to the latest Bloomberg Politics/Des Moines Register poll, which gives Clinton a statistically insignificant 42% to 40% lead over Sanders. Former Maryland Gov. Martin O'Malley trails with 4% support. Last month, the same Bloomberg/DMR poll gave Clinton a 48% to 39% advantage over Sanders.
The Bloomberg/DMR survey is conducted by pollster J. Ann Selzer's firm; political observers consider it the gold standard for polling in Iowa. Citing the accuracy and rigorous methodology of Selzer's polls, Nate Silver's FiveThirtyEight awarded her firm a rare A+ rating in 2014.
Breaking it down: Sanders draws substantial support from key demographic groups that propelled then-Sen. Barack Obama (D-Ill.) to victory over Clinton in Iowa's 2008 caucuses. Among first-time caucus-goers, Sanders bests Clinton 52% to 34%, Bloomberg reported, while he leads 62% to 21% with independents, who can participate in the Democratic caucuses, and 59% to 27% among likely caucus-goers under 45 years old.
Still, Clinton boasts sizable leads among the most reliable caucus-goers. The Des Moines Register notes that she's up 56% to 26% among senior citizens, and Clinton edges Sanders 45% to 36% among those who have caucused before.
Though Sanders' 40% showing in the poll is only a tiny improvement on the 39% he posted last month, he has consistently grown his support in Iowa since starting at just 5% support one year ago, when Clinton dominated the field with 56% support.
In another encouraging sign for Sanders, his supporters appear to be as firmly committed as Clinton's. Seventy percent of Sanders backers in the poll said their minds were made up, compared to 30% who said they were persuadable. Among Clinton supporters, 69% said their support was set in stone and 29% indicated they were open to persuasion. 
Last month, only 55% of Sanders backers said their support was firm, compared to 64% of Clinton supporters.
In a race that looks all but certain to go down to the wire, O'Malley's backers could make all the difference. According to the Iowa Democratic Party's rules for its caucuses, supporters of a candidate who fails to acquire a 15% "viability" threshold in a caucus meeting must reallocate to the remaining candidates. A Public Policy Polling survey released this week suggests this process could work to Sanders' advantage: 43% of O'Malley supporters in the poll said Sanders was their second choice, compared to just 20% who named Clinton.