Church Erects Building in Shape of High Heel to Attract Women, Who Only Care About Shoes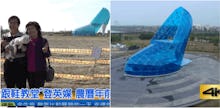 The most important fashion news this week hasn't been the new data-crunching over Birkin bags, or the announcement of the Row's new shoe line or even Michelle Obama's State of the Union selling out.
It's that there is now a church built in the shape of a shoe, because what else could get women to come to church?
That's the report catching everyone's eyes this week from Taiwan, where news outlet United Daily News reported on a just-completed building resembling Cinderella's glass slipper — if Cinderella were a giant — located in Chiayi County. Decor details within the church, the United Daily News wrote, are reportedly "all tailored for girls" to appeal to female visitors.
Reports say the church isn't open for praying yet (the actual opening will happen ahead of the Chinese New Year in early February, the United Daily News reported). But TV news outlets are on the scene as visitors snap selfies with the massive glass blue building in the background.
And, of course, we over in the United States have a few thoughts of our own. 
"Ladies, tell me you don't love this church. Wouldn't it look so good with that strappy dress you've been meaning to break out?" the Cut wrote. Curbed dubbed it "The Church of Our Blessed Misogyny" and Mashable noted that "the Carrie Bradshaws of the world now have a new meeting spot on Sundays."
Because really, women can be entirely boiled down to their clothing and accessory decisions. That's going to be what gets us increasingly faithless bunch back into church.