For the Second Year in a Row, the Oscars Failed to Nominate a Single Actor of Color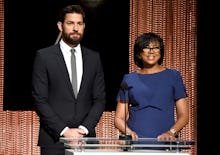 Of all the things that needed sequels this year, #OscarsSoWhite was at the very bottom of the list. Yet come Thursday morning, as Academy of Motion Picture Arts and Sciences president Cheryl Boone Isaacs and actor John Krasinski read off the acting Oscar nominations, that sequel is exactly what viewers got.
For the second year in a row, there is not one nonwhite nominee in any of the four acting categories.
Before last year, it had been nearly two decades since the academy had nominated such a white pool of actors. Now, in a year that saw such movies as Beasts of No Nation (co-starring Idris Elba) and Creed (starring Michael B. Jordan and Tessa Thompson), they've repeated the trick for a second straight year.
Last year's crop of nominees inspired the #OscarsSoWhite hashtag on Twitter, where users poked fun at the academy for their monochrome nominees. Shortly after the nominations Thursday morning, Twitter fired up again.
Of particular note is the fact that Chris Rock is set to host the Oscars for the second time. Some Twitter users expressed eagerness to see the comedian's take on the black actor-free pool of nominees.
It wasn't just the acting categories that saw especially white nominees, either; in best picture, almost all of the eight nominees feature heavily white casts in their films. The Martian features 2013 Oscar nominee Chiwetel Ejiofor in a key supporting role, while The Big Short includes 12 Years a Slave and Pariah's Adepero Oduye in a small but crucial role. There are also several Native actors in Alejandro G. Iñárritu's The Revenant.
However, only one of the big eight films was directed by a person of color. Iñárritu directed The Revenant; he was also a nominee (and the winner) last year for Birdman. None was helmed by a black director. Last year, even during peak #OscarsSoWhite rage, critics could take some solace in Selma's nomination for best picture, with director Ava DuVernay at the helm. This year, no such luck.
By this point, it should be no surprise that Hollywood has a diversity problem. Roles for women and people of color both in front of and behind the camera are scarce. It's the same problem Isaacs alluded to in her defenses of the academy last year. "The Academy has no power over Hollywood. We have nothing to do with hiring," she said in September.
However, there were several nonwhite potential nominees this year. Elba was nominated for both the Golden Globe and a Screen Actors Guild award, while Straight Outta Compton received a guild nomination for its ensemble. Jordan and Thompson for Creed, Will Smith and Gugu Mbatha-Raw for Concussion and Mya Taylor for Tangerine were all reasonable picks with at least some precursor award support. Outside of those, there was also Spike Lee's Chi-Raq, featuring ferocious performances from Angela Bassett and Teyonah Parris.
The opportunities were there this year. The academy just chose, for the second year in a row, to ignore them.
Correction: January 14, 2016
Get the five stories that will challenge you to rethink the world by signing up for MicCheck Daily.