Uber Driver Refuses to Pick Up Woman in Labor — And Charges Her Anyway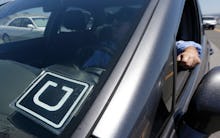 Uber has another labor problem. 
A new report in Fortune describes a New York City couple's nightmare dealings with an Uber driver. According to David Lee, the driver refused to take Lee and his companions on the trip they requested — and then charged them anyway. The kicker? Lee's wife was in labor, and the couple and their birthing coach needed to get to the hospital.
The driver didn't want to take the group because Lee's wife, who didn't want to be named, had vomited on the sidewalk. According to Fortune, the driver said that he would be out $1,000 a day if she threw up in the car. He also reportedly told the group that they would have a hard time finding another driver who would pick up a woman in labor.
Despite protestations from the birthing coach and a promise from the couple to pay to clean the car if anything went wrong, the driver refused and drove away. And then he charged them $13 for "lost time."
"I don't blame Uber for one driver's poor actions, since bad apples can appear in any organization, but I do think that when a company has a culture of bullying their way past laws and regulations, as Uber seems to do, they begin to think they can act with impunity in anything," Lee told Fortune.
The company eventually refunded the $13, but according to Lee, they were unhelpful in helping him track down the driver, whom he had planned to file a complaint against. An Uber representative refused to provide any details, saying it was a matter of driver privacy, and eventually stopped answering Lee's emails when he argued that driver licenses are public.
When reached by email, an Uber spokesperson provided Mic with the following emailed statement: 
"Denying service to a passenger in labor is unacceptable: it goes against our code of conduct and the standard of service our riders rely on. We extend our deepest apologies to both riders and have taken action to respond to this complaint.  We are glad that the rider's next driver was professional and courteous. As always, we will continue to ensure that all riders and drivers understand and the shared standard of respect, accountability, and courtesy for everyone in the Uber community."
But as Fortune points out, the incident raises questions of discrimination and transportation. 
"Uber drivers are bound by the same public accommodation laws that prohibit New York City taxi drivers and car services from discriminating on the basis of pregnancy when deciding who they will pick up," Emily Martin, the general counsel of the National Women's Law Center, told Fortune. "And those laws are a good thing, as they help ensure that not many babies end up being born on New York City sidewalks."
The incident also seems to play right into fears about Uber's battles against regulation in an industry traditionally rife with regulation. Though its drivers must pass background checks, Uber has faced accusations of not being careful enough about the drivers it hires, and been involved in a number of cases revolving around bad driver behavior, specifically, multiple allegations of sexual assault. 
While Lee's would-be driver certainly didn't stoop to the level of other recorded misconduct, the incident brings up similar questions about driver training, management and oversight.
But as for Lee and his wife? Fortune reports they eventually made it to the hospital to deliver a healthy baby boy — with the help of a different Uber driver.
1/14/2016 2:35 pm: This story has been updated.