The First Child Shot by US Law Enforcement in 2016 Just Died in Pennsylvania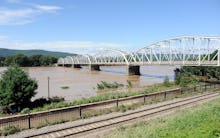 A 12-year-old girl was shot by a constable in Duncannon, Pennsylvania, Monday in what is the first instance of a child being killed by an American law enforcement officer in 2016, the Guardian reported.
Ciara Meyer — who is white — was shot by Constable Clark Steele — also white — while the officer was enforcing an eviction order against her father.
Ciara's father, Donald Meyer, allegedly pointed a rifle at Steele when he answered the door, prompting the officer to draw his gun and fire. The bullet went through Donald Meyer's left arm and hit Ciara, killing her. Donald Meyer was treated at a nearby hospital for non-life threatening injuries, and was charged with multiple counts, including aggravated assault and recklessly endangering another person.
According to Bill Stoeffler, the region's spokesman for the Commonwealth Constables Association, Steele is "completely distraught over this incident — this is the worst nightmare any of us as constables can encounter," CBS News reported. He added that Ciara's death was "absolutely not intentional."
The deadline the Meyer family was given to move out of their Duncannon home was Monday, Jan. 11. Ciara Meyer was reportedly staying home sick from school when she was killed. Duncannon is a borough of Perry County, located on the western bank of the Susquehanna River just north of Harrisburg in central Pennsylvania. Around 1,500 people live there, by census count, and 97% of the population is white.
This all comes less than a month after an Ohio grand jury declined to indict a Cleveland police officer for killing another 12-year-old, Tamir Rice, who was shot while playing with a toy gun outside a local recreation center in November 2014. Rice was black, and his death fueled nationwide protests against anti-black police violence.
Meanwhile, 23 people have been killed by U.S. police so far this year, according to "The Counted," the Guardian's annual database of police-involved killings. America's police killed 1,138 people in 2015 — a rate of three people per day.