Black Films Received Oscar Nods This Year — But Only for Their White Talent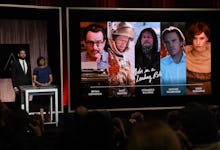 Early Thursday morning, Academy of Motion Picture Arts and Sciences president Cheryl Boone Isaacs and actor John Krasinski presented the nominees in the major categories for the 2016 Academy Awards. And Hollywood got what it loved the most: a sequel. 
For the second year in a row, all 20 acting nominees are white, the best director category is all white, except for previous winner Alejandro González Iñárritu, and the best picture category is filled with films featuring white faces despite the fact that films like Creed, Straight Outta Compton and Tangerine are filled with on-screen black and Latino talent and several talented people of color crafted these films behind the scenes too. 
Straight Outta Compton, which did receive a Screen Actors Guild nomination for outstanding performance by a cast in a motion picture and which was named one of the top films of the year by the National Board of Review, received an Academy Award nomination for its original screenplay for two white screenwriters, Jonathan Herman and Andrea Berloff.
Described in the Los Angeles Times as a "white Jewish gay guy from Connecticut," Herman is one of two people from Compton to garner an Academy Award nomination from a body that, according to the Los Angeles Times in 2013, was 93% white and 76% male. Herman also told the Times he had no prior knowledge of hip-hop before this screenplay and had no produced writing credits until 2013. 
Creed's sole nomination came in the form of a supporting actor nod for Sylvester Stallone, who won the Golden Globe on Sunday in the same category. It was Creed's only Golden Globes nomination as well. The film was also named a top film of the year by the National Board of Review. Lead actor Michael B. Jordan won a few best actor critics' awards, including one from the National Society of Film Critics. 
Stallone is an Oscar nominee who was previously nominated for the same role, Rocky Balboa, in the original 1976 Rocky film; he was nominated then for best actor.
Twitter seemed to notice the irony of Thursday's nominations, and the overall lack of diversity in this year's nominations, as well. 
Herman and Berloff are newcomers to the Oscar club, while Stallone is returning. While they are talented and deserving, it's also telling that the people of color who worked on these films were shut out of the nominations.  
Of course, this is not solely an Academy Award problem. Diversity in Hollywood is an issue at all levels, from its greenlight all the way to awards season.  
A recent study from the University of California, Los Angeles outlined a problem with top-level executives and "gatekeeping" in Hollywood. To put it plainly: 94% of studio heads are male and every single one is white. Senior management at these studios is 92% white and 83% male, as well. The study also reported that talent agencies remain overwhelmingly white. Studio heads who read the report will find out the truth: Diverse casts and talent usually reap good box office rewards. 
Jonathan Beane, who leads Time Warner's diversity and corporate social responsibility, told the Hollywood Reporter in 2015 he felt executive attitudes were not "malicious" toward people of color. "It's just that people have a better eye for talent when it looks like them and has the same background as them," he said. 
Correction: Jan. 14, 2016