Here Are the Multiple Actors of Color Who the Oscars Ignored in Their Nominations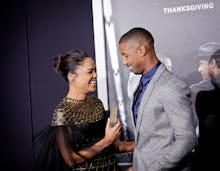 Thursday, the Academy of Motion Picture Arts and Sciences ignored any and all actors of color in its nominations for the second year in a row, inspiring calls of #OscarsSoWhite once again. Last year, Academy president Cheryl Boone Isaacs defended Oscar voters by calling attention to Viola Davis' Emmy acceptance speech about opportunity.
"The Academy has no power over Hollywood," she said, alluding to a lack of roles for people of color to be eligible for nominations. "We have nothing to do with hiring."
This year, though, that excuse doesn't quite wash. Oscar voters had plenty of performances by actors of color to choose from when filling out their ballots. To remember them would require the Academy to think outside of what it knows and consider new, exciting performers that don't look like them. That, clearly, was something they weren't willing to do.
Here are just nine of 2015's performers of color who would have deserved Oscar voters' attention:
Michael B. Jordan
As Adonis Creed, the nearly forgotten son of Apollo and inherited family of Rocky Balboa, Jordan stuns. It's a role that requires equal parts physicality and emotion as he slowly opens up to Rocky and his new girlfriend, Bianca (Tessa Thompson). Jordan received the National Society of Film Critics' award for best actor, but couldn't gain any traction when it came to the Oscars. Instead, only Stallone was nominated from Creed's cast.
Tessa Thompson
Creed's near-total snubbing meant Thompson also didn't get any buzz for her work as Bianca. In a role that could have just been a stock girlfriend part, Thompson brings layers and rich details. Her chemistry with Jordan is off the charts, too. Nominating the two of them as a pair would have been more than deserved.
Will Smith
Smith played real-life doctor Bennet Omalu, a Nigerian man who discovered the serious repercussions of concussions in the NFL. Ordinarily, a role in a biopic like this would be candy for the Academy — remember that Eddie Redmayne won just last year for playing Stephen Hawking in The Theory of Everything, and he's up for another biopic this year in which he plays trans woman Lili Elbe. Yet Smith, who had a Golden Globe nomination under his belt, couldn't get the votes.
Idris Elba
Elba had even more precursor support than Smith and Jordan. For his role as the commandant in Cary Fukunaga's Beasts of No Nation, the British actor received Golden Globe and Screen Actors Guild nominations. But despite those voting bodies' support of his performance, he got blanked by the Academy.
Teyonah Parris
Chi-Raq was maybe never going to be the Academy's cup of tea. The intense, brazen retelling of the Greek tale Lysistrata was director Spike Lee's messiest project in years. Amid all that mess, however, was a bleeding, pulpy heart of passion driven by stellar performances. The central performance belonged to Parris, a stalwart actress (Mad Men, Dear White People) who brought a whole new energy to Chi-Raq. As Lysistrata herself, Parris was sensual, sexy and stunningly great.
Angela Bassett
As Lysistrata's maternal figure Irene, Bassett was similarly amazing. At first dismissive of the young woman, Irene comes around to join Lysistrata's sex strike, a cause designed to stop the men of Chicago from making war. She's eloquent and fiery as ever, grounding her performance in real pain for the victims caught in the gangs' crossfire. The Academy would have had to try something very new with Chi-Raq, but had they given it the chance, they might've been pleasantly surprised by what they saw.
Mya Taylor
Tangerine is another kind of movie that's not quite to the Academy's taste. The trans buddy dramedy that takes Taylor and her co-star Kitana Kiki Rodriguez all across Los Angeles was shot on an iPhone. Luckily, thanks to director Sean Baker, it was also masterfully shot, with an amazing performance from Taylor anchoring it. Instead of nominating a trans woman playing a trans woman, the Academy went for Redmayne, a man playing a trans woman. Debate the merits of the performances, sure, but did the voters even give Taylor a look?
Benicio Del Toro
Sicario received a few non-acting nominations, ignoring Del Toro's sharp performance entirely. As CIA agent Alejandro Gillick, Del Toro serves as one of the Mexican drug cartel film's main characters. Yet Sicario didn't earn attention for any of its performances.
Oscar Isaac
It would have been poetic for Isaac to cap a winter in which he became the internet's new favorite actor with an Oscar nomination. Considering Ex Machina's nominations in technical categories, it's odd they didn't consider Isaac's villainous turn as the mad, charismatic genius who created artificial intelligence. Alas, Isaac will have to be content with a recurring role in the biggest franchise in the world.