'Harry Potter' Cast Members React to the Passing of Alan Rickman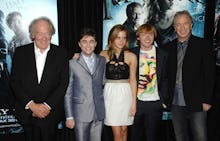 As performers and authors who worked with Alan Rickman learn of his death, more and more tributes are pouring in. The connective tissue of all of them: Not only was Rickman a great actor and performer, he was also a mentor and a friend to those he worked with.
Several of Rickman's former Harry Potter castmates have shared their reflections on Rickman on various social media channels. Here, among others, are Daniel Radcliffe's and Emma Watson's posts.
Daniel Radcliffe
"Alan Rickman is undoubtedly one of the greatest actors I will ever work with," Radcliffe wrote on his Google+ page. "He is also, one of the loyalest and most supportive people I've ever met in the film industry."
Radcliffe shared memories of Rickman helping him both on and off the Potter set, visiting him to see him on stage as well. "As an actor, he was one of the first of the adults on Potter to treat me like a peer rather than a child," he added. "Working with him at such a formative age was incredibly important and I will carry the lessons he taught me for the rest of my life and career."
Emma Watson
"I'm very sad to hear about Alan today," Watson wrote on Facebook. "I feel so lucky to have worked and spent time with such a special man and actor."
True to form, Watson also tweeted an image with a quote from Rickman on feminism:
Matthew Lewis
"He inspired my career more than he ever knew, and I'll miss him," Lewis wrote in an Instagram caption attached to a photo of the two actors. The former Neville Longbottom shared a memory of receiving advice from Rickman in his trailer. "I will treasure those memories all my life," he added.
Emma Thompson
"Alan was my friend, and this is so hard to write because I have just kissed him goodbye," Thompson said in a statement released to the New York Times' Dave Itzkoff through her U.K. management. "He was the ultimate ally. In life, art and politics. I trusted him absolutely. He was, above all things, a rare and unique human being and we shall not see his like again."
Get the five stories that will challenge you to rethink the world by signing up for MicCheck Daily.