Sorry, Wearing Makeup to the Gym Is Probably Not a Good Idea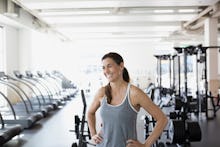 Before they run five miles to Nicki Minaj's Pink Friday on a loop, sweat buckets on a spin bike to Whitney Houston's greatest hits, or strain their butts in a barre class, there are women who put on makeup. 
Listen, it makes some sense. In our (admittedly) selfie-obsessed, Facetuned world we live in, we shouldn't be too shocked that the worlds of fitness and makeup are converging. Fitness has extended its reach into other parts of our lives (hello, athleisure clothing) — and now that includes entire makeup lines made for exercising.
According to the New York Times, the workout makeup is a Thing, and it's booming. Eyeko Sport eyeliner and mascara are made to "see you through your morning workout," while Katherine Cosmetics sells a line of "K-Sport" beauty products. There are even workout clutches that hold all the beauty products for maximum inconvenience.
The latest makeup is Birchbox's new line of cosmetics called Arrow, created specifically with women at the gym in mind. Well+Good calls it "the athleisure line of beauty." That means gel blush, an aluminum-free deodorant and lip balm that changes color according to the pH level of one's lips. In May, the line is expected to expand with a waterproof mascara, a tinted serum and brow gel. 
"It's really to help enhance your natural self and give you a little bit more polish," Katia Beauchamp, one of the founders of Birchbox, told the Times. "We weren't trying to create something that was like a heavy makeup, where you're thinking about perfection. It's more lightweight."
Lightweight though it may be, there remains the question over wearing makeup to work out at all. As fitness gets more popular for women, so does our love for prestige beauty products. The trend makes it worth asking: Is wearing makeup while you grunt, lift, sweat and drip actually OK for your skin? Or are there any potential risks that make makeup a bad idea?
According to most dermatologists Mic spoke to: Yes, there are some risks.
"When you are sweating, your skin is more likely to absorb whatever is applied to it," New York-based dermatologist Dr. Elizabeth K. Hale told Mic. "So number one, this is a reason to not put makeup on before working out because the makeup will get into your pores."
Right, but why, exactly? What happens to your skin when you wear a full face of makeup — foundation, blush, powder, the works — and sweat super heavily? 
"Indeed, some people will get away with it," Dr. Julie K. Karen, a Manhattan-based dermatologist, told Mic. "They will feel lucky as they are looking glam while sweating it out at the gym. However, my professional advice would be not to wear makeup at the gym or for other sweat-inducing activities as there is a real potential for clogging of the pores and possible aggravation of any underlying conditions such as acne."
Oil-based products are especially problematic. "Either way, avoid oil-containing products which may clog your pores," Dr. Snehal Amin, a New York-based dermatologist, told Mic.
That's never good. Another reason: You're gonna look crazy, girl. 
"Some of the makeup will still get into the eyes as you sweat so it can be irritating," Amin said. "Smeared mascara and lipstick never looks good unless you're trying for a Batman sequel."
Aptly put, we must say. But what if you really, really want to wear a little concealer or highlighter while working it? Is there, say, a lighter alternative or option for women who don't want to look like they've almost just drowned? What do you do if you have a crush on your hot yoga instructor who looks like '90s Brad Pitt?  
That's what new lines like Arrow are there for — to provide healthier options to be used in moderation. According to Dr. Amin, lighter products can work. "Bronzers or tinted-makeups can look great in the winter," Amin said. "Lip-plumping lip glosses are also useful and less likely to smear." 
"A mascara would be the least likely to be problematic, but I would advise avoiding facial makeup," Dr. Karen added, though beware of smudging. 
What really matters is that if you do feel propelled to wear makeup to the gym, try to use lighter products and keep in mind that everyone's skin reacts differently to sweat, dirt and the makeup itself. 
And remember: Your ClassPass crush (if you have one) will fall in love with you regardless and you'll continue to retain that J. Lo glow whether you have illuminating foundation on or not. In the end, it's your decision to make.