Ty Segall 'Emotional Mugger': Full Preview and How to Listen Right Now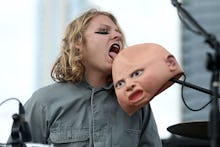 Gary Miller/Getty Images
Singer, songwriter and multi-instrumentalist Ty Segall will be releasing his newest studio album, Emotional Mugger, on Friday. The 28-year-old Southern Californian has a prolific catalog, having released several studio albums, three compilation albums, a live album, 19 singles, and 12 music videos. The grunge-rock artist announced the new project by circulating several VHS tapes, which play the new album, according to Pitchfork. 
NPR offers a full preview of Segall's new album online.
Doug Mosurock of NPR called Emotional Mugger "a wild, twisted ride into and out of Segall's psyche — the sound of a restless mind attempting to turn itself inside out."
"Emotional Mugger squeals and shouts, an unruly child of an album, all sharp elbows and hyperactivity," Michael Hann, music editor of the Guardian said.
Rob Sheffield of Rolling Stone called Emotional Mugger, "a nastier street-punk version of his Manipulator approach," referencing Segall's 2014 album. Eric Renner Brown of Entertainment Weekly said many of the songs on the new album "sound more like half-baked stylistic exercises than true songs." Pitchfork rates the album at a 7.3.
While reviews on the newest Segall album appear to be mixed, one thing is for sure — Segall will continue to produce new music for his fans.