Hurricane Alex 2016: Forecast, Storm Tracker, Path and Updates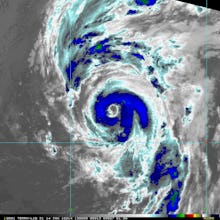 NHC/Twitter
The National Hurricane Center upgraded eastern Atlantic ocean subtropical storm Alex to hurricane status Thursday as it heads toward the coast of Azores, Portugal. The center has issued a five-day hurricane warning and tropical storm warnings for various regions of the Azores islands as Hurricane Alex moves north-northeast toward land at 20 mph. 
"The Azores Meteorological Service has issued a hurricane warning for the islands of Faial, Pico, Sao Jorge, Graciosa and Terceira in the central Azores, and a tropical storm warning for the island of Sao Miguel and Santa Maria in the eastern Azores," the National Hurricane Center wrote in its public advisory for Alex, currently located 490 miles off the coast of Azores.
Alex is the first January hurricane to form since 1938 and only the fourth January hurricane on record since 1851, CNN reported.  
Alex's maximum sustained wind as of Thursday was 85 mph and isn't expected to increase Friday, according to the hurricane center. Winds reached 25 miles from the storm's center. The hurricane is expected to increase speed Friday and Saturday, possibly reaching land in Azores on Friday.
The storm is expected to produce three to five inches of rain on the islands; seven inches in some areas. The National Hurricane Center warned Azores that the heavy rainfall and wind can cause life-threatening mudslides and dangerous flooding along the shores.
Alex is currently several thousand miles off the East Coast of the United States and is not expected to affect the U.S. as it should head farther north to Greenland once it departs from Azores, according to the advisory.