Charlie Hebdo Faces Backlash After Publishing Cartoon About Dead Syrian Refugee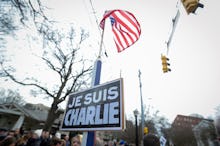 More than a million refugees have been allowed into European countries in the last year, ABC News reported in December. This influx of refugees has continued to grow, as has an anti-refugee backlash that's included physical protests and violence. 
The situation is dire and hard to laugh about, but a recent comic published in the French satirical magazine Charlie Hebdo tried, and it's sparked cultural debate and controversy.
"What would little Aylan have grown up to be?" the recently published cartoon, which refers to the 3-year-old Syrian refugee found dead on a Turkish beach last September, asks in text at the top of the image. 
"A groper of women in Germany," text at the bottom of the image reads, answering its own question and referencing recent attacks on hundreds of women in Cologne, Germany, presumably at the hands of asylum-seekers.
This cartoon was notably published less than a week after the first anniversary of the infamous attack waged on the French publication by Islamic extremists. The attack killed a dozen people and wounded others — including Laurent Sourisseau, who was shot during the incident and is the artist of this recent cartoon, according the Washington Post.
The image is being interpreted by many as a blatantly racist, unwelcome contribution to anti-refugee backlash, and plenty are expressing their disgust on Twitter. 
Charlie Hebdo has a history of publishing racist images, including other images specifically targeting 3-year-old Aylan Kurdi. As Salon noted, one past cartoon featured the young refugee drowning, accompanied by the caption, "Christians walk on water. Muslim children sink," while another featured the child's corpse accompanied by the captions "Welcome immigrants!" and "So close to his goal," and a McDonald's sign bearing the message "2 kids menus for the price of one."
But others interpret the cartoon's intended message differently.
"It seems highly likely to me that Charlie Hebdo is not championing this anti-refugee sentiment but rather satirizing it," Max Fisher said in a Vox piece yesterday. "Their 'point' here is that European anti-refugee sentiment, when laid bare, ultimately leads to the ridiculous and indeed hateful idea that even Kurdi is a threat to European women."
The publication's previous cartoons might also be depicted as portraying perhaps racist sentiments "not to endorse [them] but rather to mock the people who hold [them]," Fisher wrote. 
No representative from the publication has officially commented on the image; its intended meaning, therefore, remains up for debate. The pain and sadness the image is causing many viewers, however, is obvious and undeniable.
h/t Salon