Judge Throws Out Case Against Alabama Police Officer Who Paralyzed 57-Year-Old Indian Man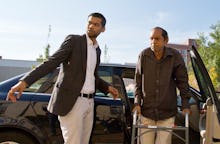 Indian citizen Sureshbhai Patel got a classic American welcome last February when a Madison, Alabama, police officer slammed him to the sidewalk in front of his son's house and left him temporarily paralyzed.
Now, he's getting even more bad news: On Wednesday, a judge threw out the case against Officer Eric Parker, saying prosecutors don't have enough evidence to convict him.
"The government has had two full and fair chances to obtain a conviction," Judge Madeline Hughes Haikala wrote in her decision, according to AL.com. "It will not have another."
Wednesday's ruling marks the end of the third trial brought against Parker in this case. Juries in the first two ended up deadlocked when they could not agree whether Parker had violated department policy or Patel's civil rights when he threw the 57-year-old to the ground during a detainment caught on dash cam video Feb. 6, 2015. 
It's still not clear if Patel did anything to warrant being detained. According to reports, he was visiting Alabama from India to help his son's wife care for his grandson. He was walking in front of the house one morning when a neighbor called the police complaining about "a skinny black guy" wearing a knit cap and "walking around close to the garage."
When Parker arrived and tried to detain Patel, the officer later testified, Patel kept jerking his hand away. "It concerned me that he was going for that weapon I presumed he had," Parker said at trial, according to AL.com.
Patel's difficulty obeying the officer's commands likely stemmed from the fact he did not speak English. "I did not try to run away, but I did go back a couple of steps to show them my house, my house," Patel said through a translator during trial, AL.com reported.
The neurosurgeon who operated on Patel said the assault that followed left him unable to grip his hands or walk. One of Patel's vertebrae also had to be replaced with a metal cylinder and a plate.
Parker was fired shortly after the incident. Police Chief Larry Muncey said, "I found that Officer Eric Parker's actions did not meet the high standards and expectations of the Madison City Police Department." The case was also widely covered in India at the time, prompting visits from Indian diplomats and an apology from Alabama Gov. Robert Bentley to Patel and his home country.
But the legal element proved trickier. Expert witnesses, including some of Parker's fellow officers in the Madison Police Department, testified that Parker acted unreasonably. Others disagreed. In the end, and after two trials, the two sides couldn't agree, with the first outcome even split along racial lines — 10 white male jurors voted to acquit Parker, while the two black women on the jury voted for a conviction, AL.com reported. Madison is 74% white. 
"The result in this case is by no means satisfying," Haikala wrote. "If Mr. Parker or Mr. Patel could take that time back, both would surely do things differently and avoid the events that have forever changed both of their lives.
"However, that injury, standing alone, does not provide the basis for a criminal judgment against Mr. Parker."
And with that, the case is over.