This Is What It's Like to Be Mark Zuckerberg's Neighbor (And Never Be Able to Park)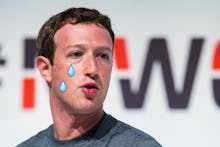 Back in 2013, Mark Zuckerberg snapped up a $10 million pied-à-terre in San Francisco's swanky Noe Valley neighborhood. Unfortunately for the Facebook-founding billionaire, some of his neighbors aren't exactly thrilled by his presence.
Nitasha Tiku at BuzzFeed unearthed a letter sent to some neighborhood residents about Zuckerberg's less desirable neighborly habits, which the letter claims have led to a dearth of sweet, sweet parking spots in the area. 
Prepare your tiny violins, because the 1% aren't happy.
"I'm sure you all agree that it can be cumbersome living next to Zuck," the letter begins, per BuzzFeed. "I think we've all tried to be as patient and civil as possible during the very long construction, the noise, the trash, the blocking of streets, etc. Now that all that circus is done, we are left with 2 silver SUVs permanently occupying desirable parking spots. It goes without saying that living close to Dolores Park and the awesome neighboring districts already creates a challenge when it comes to street parking, so the two spots that are illegally being held for Zuck only makes matters worse."
Those darn billionaires. So cumbersome!
The letter goes on to ask other residents to help "raise visibility to this issue," and to contact the San Francisco Municipal Transportation Agency to report the problem. (It also asks them to contact Tim Wenzel, Zuckerberg's residential security manager, and provides his phone number and email address.) According to the letter writer or writers — no names were used — the security guards could instead park in the driveway rather than taking up extra room on the street.
The letter stated that there have been other attempts to draw attention to the issue, including "[taking] pictures of both cars and [posting] it on [the transit authority's] Twitter page, along with the local news stations' Twitter accounts [and] our personal Facebook accounts."
When reached by email, a spokesman for the transit authority confirmed to Mic that the agency had indeed heard from unhappy neighbors. 
"We have received complaints to our enforcement hotline and have followed up and in some cases have written citations," the spokesman told Mic. "We did send staff to the location [on Jan. 14] and reminded folks involved of the rules. We will continue to monitor the situation and enforce as needed."
A spokeswoman for Zuckerberg assured Mic that "the security team's cars are parked in accordance with local parking laws," but declined to comment on the assertion that the agency had issued citations. "The team strives to be sensitive to neighbors' concerns and regrets any inconvenience," the spokeswoman told Mic.
This isn't Zuckerberg's first neighborhood brouhaha. In 2014, following construction that began in 2013 on his home, nearby residents voiced their dissatisfaction. One even told SF Gate that the security hired during the construction had turned the area into "nothing short of a fortress."
In 2013, Zuckerberg purchased four homes surrounding his Palo Alto estate because of privacy concerns; the move led to further headaches, including a lawsuit filed against him by a developer who accused him of reneging on a promise to introduce the developer to "influential people" in the tech industry.
However, at least one resident seems to be cool with Zuckerberg's alleged misdeeds. BuzzFeed's Tiku also obtained a screenshot of a purported conversation on Nextdoor, a private social network for local communities and neighborhoods, between two Zuckerberg neighbors.
"I think having Zuck as a neighbor is a gigantic plus," the poster argued. "The guards are a plus. My dog Oscar Wild thinks they are great. I think you are a whiner enjoying raising crap about nothing." 
What a world.
h/t BuzzFeed