What Is 'Angie Tribeca'? Your Guide to Rashida Jones' Insane Comedy Sitcom Marathon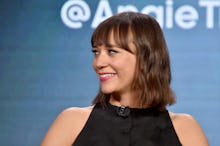 Mike Windle/Getty Images
Steve Carell and Rashida Jones fans may want to get sick and stay home from work Monday. Carell and his wife's satirical cop sitcom starring Parks and Recreation's Jones is premiering in an insane 25-hour binge marathon on TBS Sunday night through Monday night — and based on what Jones has dished about the series, like that she let a mole defecate in her hand on camera, it's going to be unreal. 
How to watch: The 25-hour marathon will run through the show's first season, 10 half-hour episodes, five times, kicking off Sunday, Jan. 17 at 9 p.m. Eastern and concluding Monday, Jan. 18 at 10 p.m. Eastern on TBS — sans commercials, Variety reported. The commercial-less marathon will also be available to stream on TBS.com, the TBS mobile app and TBS On Demand, leaving no excuse to miss it. 
After the initial binge, TBS will air 10 more episodes weekly at 9:30 p.m. Eastern starting Monday, Jan. 25, followed by an encore of one of the first season episodes at 10:00 p.m. Eastern, Variety reported. 
Why it's probably a must-see: Most notably, Jones told Vulture in an interview Thursday that a mole will poop in her bare hands on one of the episodes. 
In all seriousness, Angie Tribeca is important to comedy because it revives slapstick cop humor in a way that feels fresh and appeals to the Jones and Judd Apatow-era audience. The show takes literal-style humor to new heights — like in the teaser when Jones, who plays officer Angie Tribeca of the Los Angeles Police Department's "Really Heinous Crimes" unit, literally just deepens her voice when her boss tells her to go "deeper" in an undercover mission. (It's one of those 'you had to see it' moments.)
Here's the full teaser including that moment:
Angie Tribeca covers every cop stereotype in what Vogue's Julia Felsenthal likened to a cross between 30 Rock and Brooklyn Nine-Nine. "The show finds absurd, literal-minded humor in the most hackneyed subject matter," Felsenthal wrote, adding "It's clear we're in territory best described as completely bizarro."