Planned Parenthood Is Reportedly Filing Suit Against the Group Behind Sting Videos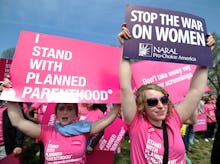 From political opposition to a violent shooting, the organization Planned Parenthood and its affiliates faced numerous attacks last year. But perhaps one of the worst, and most publicized, was the series of sting videos the anti-abortion group the Center for Medical Progress released in July, which in turn sparked massive backlash, including a House Oversight Committee hearing and attempts to defund the organization. 
But now, Planned Parenthood is fighting back and has reportedly filed a lawsuit against the group behind these videos, the Daily Beast reported Thursday.
"The people behind this fraud lied and broke the law in order to spread malicious lies about Planned Parenthood," Dawn Laguens, executive vice president of Planned Parenthood Federation of America, said in a statement emailed to Mic. "This lawsuit exposes the elaborate, illegal conspiracy designed to block women's access to safe and legal abortion, and we filed the case to hold them accountable."
As MSNBC reporter Irin Carmon tweeted while on a press call, Planned Parenthood officials confirmed that they have filed suit in California federal court on the grounds that the organization violated RICO and "engaged in invasion of privacy and illegal secret taping under federal and state statutes."
This isn't the first lawsuit against the Center for Medical Progress either. The National Abortion Federation sued the organization in July. Then, the Supreme Court ordered a key figure behind the videos, David Daleiden, to provide information about his organization that could undermine his mission, Newsweek reported. Daleiden has previously worked with individuals who have pled guilty to similarly creating undercover sting videos, RH Reality Check reported in July. The current lawsuit claims that Daleiden's team gained access to the meetings they filmed — and, it was later determined, misleadingly altered — by lying about their identities, according to Newsweek.
h/t the Daily Beast