White Space Suits Are Totally out of Style — Now You Can Take a Spaceflight in Adidas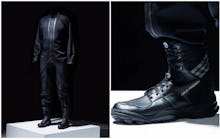 Virgin Galactic, Richard Branson's commercial "spaceline" (like airline, but in space) that promises to take regular citizens of the world to space, just gave the astronaut a major fashion upgrade.
Branson has announced a partnership with Y-3, Adidas and Japanese designer Yohji Yamamoto's activewear brand, making luxury commercial spaceflight gear to match the luxury that is commercial spaceflight.
For example, this is the flight suit: 
Very Star Wars, isn't it?
And these are the aggressively trendy boots:
From the suits to the boots, Adidas' branding will be on everything. 
According to the lucky few who attended the launch of the new collection, the flight suits are a far cry from the white, roomy suits we've come to associate with space travel: 
In a Thursday announcement Virgin Galactic, which is running suborbital spaceflights for paying customers, said that Y-3 will take on the challenge of "jointly designing and then producing the complete range of garments required for our commercial spaceflight operations." 
"Y-3 has a technical know-how and an approach to style which emphasizes the use of advanced fabrics, special techniques and bespoke specifications to ensure fit, comfort and performance," according to the press release. 
The new, upgraded flight suits appear to look more like wetsuits, with a streamlined silhouette and plenty of pockets. Although we are completely bummed the suits don't resemble anything from Zenon: Girl of the 21st Century, the Y-3 gear is classic and cool nonetheless. 
Because Y-3 is owned by Adidas, there are those sneaker-like boots, also a far cry from the space boots we've known (which look like someone's put their foot inside of a marshmallow). These shoes are sleek, black and stylish. They honestly wouldn't look so weird taking a stroll through some snow, or down a sidewalk. 
Oh, and the whole crew will get the style boost. According to the press release, "Y-3 will be responsible for everything from flight-suits for our future astronauts and pilots, to garments worn by our operations and maintenance teams as well as our hosting staff."
It may seem silly for space travelers and designers to bother to give space travel clothing a designer upgrade. But fashion designers — and their brand names — have been extending their reach and creeping into the more mundane aspects of our lives for years now, slowly upgrading regular people's style as they go. Olympic team gear? Sure. NFL cheerleader uniforms? Why not. Retail employees outfits? Yep, upgrade those. 
Is there anywhere mankind can go that fashion cannot also reach? We have a feeling the answer is, "No." 
h/t Racked