Is Marijuana Legalization in Arizona 2016 on the Horizon? Here's the Latest on Initiative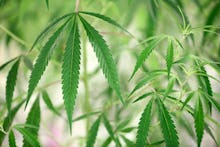 Richard Lautens/Getty Images
A recreational marijuana initiative in Arizona has collected 140,000 of the 150,000 signatures it needs to secure a spot on the Election Day ballot in November, a representative for the initiative told the Associated Press Thursday. The initiative would set up a system for marijuana to be regulated, taxed and sold, much like alcohol and similar to the systems in place in Colorado and Washington, which legalized pot in 2012. 
"We are riding the wave of public opinion that prefers regulation and taxation rather than criminalization and prohibition," Carlos Alfaro, Marijuana Policy Project's Arizona political director told the Press. The Campaign to Regulate Marijuana like Alcohol has until July to collect the remaining 10,000 signatures, a goal the representative said they'll likely surpass. 
Arizona Gov. Doug Ducey has said he doesn't support marijuana legalization in the state. On Wednesday, Ducey told KTAR News that he believes a majority of the states problems "from unemployment, to homelessness, to domestic violence, to child neglect, to our prison population," are connected to drugs. 
"I don't know how we make ourselves a stronger state or a better place through this initiative," he told KTAR. "Almost everything outside of our economy and education that I have to deal with in this state has a common culprit of drug abuse and addiction."