Hillary Clinton's Lead Slipping Faster in 2016 Election Polls Than in 2008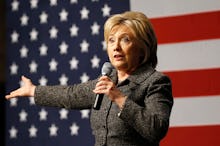 Patrick Semansky/AP
Democratic party frontrunner Hillary Clinton is leading in the polls against her two challengers in the race to win the 2016 Democratic nomination — and if she has her way, the White House — but according to the Washington Post, if past is prologue, Clinton has a number's game to worry about. More to the point, Clinton is losing ground to her competition more rapidly than in she did in 2008, which is the last time she ran for the highest office in the United States. She has one clear opponent, Vermont Sen. Bernie Sanders, whose rising poll numbers could spell trouble for the Clinton campaign. 
According to a year-over-year comparison of Clinton's standing in the national polls using data from Real Clear Politics, the Post reports that Clinton was polling better around the same time in 2008 than she is right now. 
When Clinton ran in the 2008 election, she was eventually unseated from her early frontrunner position by former North Carolina Sen. John Edwards and, of course, former Illinois Sen. Barack Obama. And though voters who opposed Clinton in 2008 were divided in their support for Edwards or Obama, Obama eventually garnered the bulk of Democratic voters' favor and Clinton gradually slipped in the polls.
Read more:
Though Clinton is not dipping dramatically in the national polls, Sanders is clearly gaining ground. According to a Jan. 7 poll from the New York Times and CBS News, 48% of Democratic voters would pick Clinton compared to 41% who would vote for Sanders. Those figures represent a four-point loss for Clinton, according to the data, but a nine-point jump for Sanders.
It's important to point out, as the Post does, that one reason to explain why Clinton's poll numbers could have slipped more slowly in 2008 is that voters who didn't support her in 2008 were divided between Edwards and Obama, which kept her ahead as voter opinion about her challengers shifted.
But in Iowa, an early caucus state, things aren't looking great for Clinton. Clinton's lead on Sanders has shrunk to a meager two percentage points there, according to a Des Moines Register/Bloomberg Politics poll, which is a nine-point loss in the polls for Clinton since last month, according to the poll's organizers.
"It shows Bernie is around to stay for sure. It's not a fly-by-night thing," Des Moines lawyer Grant Woodard told the Des Moines Register on Thursday. "It really shows we're going to have a pretty crazy last few weeks here."
Despite her relative slip, 7 in 10 Democratic voters think Clinton will eventually win the Democratic nomination, according to survey data from the New York Times/CBS News' latest poll — and that includes Sanders' supporters. However, as Mic previously reported, Sanders' gain is clearly Clinton's loss.