Fox Republican Debate 2016 Livestream: How to Watch GOP Debate Live Online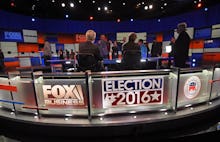 Rainier Ehrhardt/AP
The first GOP debate of 2016 is happening Thursday night, and, with the earliest primaries just around the corner, things are heating up for the Republican candidates. The two hour "primetime debate," featuring Frontrunner and real estate mogul Donald Trump, Texas Sen. Ted Cruz, Florida Sen. Marco Rubio,  former neurosurgeon Ben Carson,  former Floirda Gov. Jeb Bush, New Jersey Gov. Chris Christie and Ohio Gov. John Kasich, will begin at 9 p.m. Eastern. 
Thursday's debate is being hosted by Fox Business Network, which will offer a livestream on the network's website.
Before the primetime debate at 9 p.m. Eastern, the network will air a preliminary debate featuring former Hewlett Packard CEO Carly Fiorina, Arkansas Gov. Mike Huckabee and former Pennsylvania Sen. Rick Santorum, which will begin at 6 p.m. Eastern and will also live stream on the Fox Business website.
In addition to a livestream, viewers following the debate online can also find debate-related content on the Fox Business Network's Facebook page, which will be updated throughout the night.